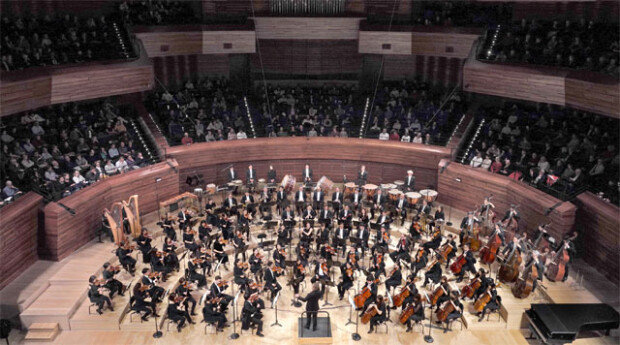 Concertgoers filled the 1,460-seat auditorium at La Maison de la Radio in Paris, France on Saturday night and gave a standing ovation for a while. Some in second floor spectator seats even chanted "Bravo." French concertgoers gave warm welcome to the Seoul Philharmonic Orchestra, which staged its first concert in Parks, a center of art and culture.
The concert started the concert with "Muak," a song composed in 1978 by Korean composer Yoon I-sang who lived and worked in Europe. French concertgoers were increasingly fascinated by unique vibes of the music, as the melody exuding traditional Korean emotion, which Yoon composed while imagining the Korean royal dance of "chunaengmu," was streaming harmoniously in tune with dance song of Western music.
Then, Beethoven's Piano Concerto No. 5 "Emperor" was performed by the orchestra in collaboration with pianist Kim Sun-wook. Kim, who already collaborated with the orchestra to perform the concerto several times, passionately played to dominate the stage, soaked with sweat.
"When compared with world-class philharmonic orchestras, the Seoul Philharmonic Orchestra's biggest strength is its robust energy and potential. The concert will give a momentum to elevate the stature of Korean classical music in Europe," Kim told The Dong-A Ilbo right after the concert. "Recently, a Korean was picked as permanent maestro of the France Philharmonic Orchestra. As more (Korean) musicians develop their music careers in Europe, it seems no longer unusual to see Koreans serve as performers at world-famous orchestras."
Jung-Min Dong ditto@donga.com