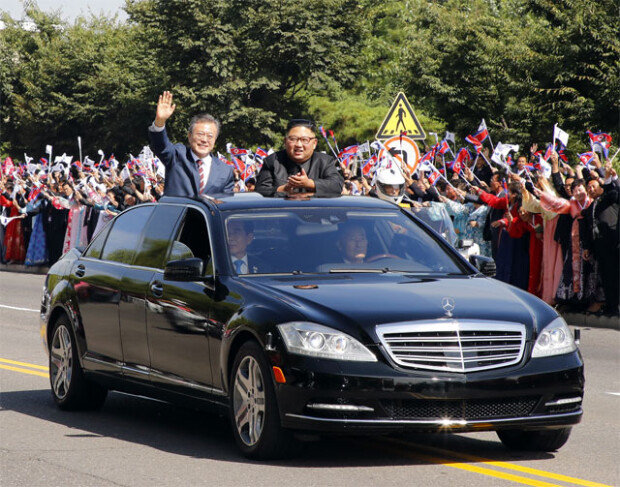 The United Nations Security Council (UNSC) is investigating how North Korean leader Kim Jong Un's luxury limousine was smuggled into North Korea, U.S. broadcaster Radio Free Asia reported on Wednesday. The vehicle, which was used during a car parade in Pyongyang when South Korean President Moon Jae-in visited the North last September, is reportedly a modified version of the Mercedes-Maybach S600 Pullman Guard luxury limousine.
The vehicle, with which the UNSC Sanctions Committee on North Korea raised issue, appears to be the same one as pointed out by the international body's Panel of Experts, which said in a 2016 report that a modified S600 Pullman Guard was detected multiple times during a military parade. The panel noted that the vehicle's import could constitute a violation of the UNSC resolution on sanctioning the North. The UNSC banned luxury goods in 2006 from being shipped to the North and clarified in 2013 that such items included luxury vehicles.
In the report, the panel said that Ma Yunong, also known as George Ma, was running Seajet International, an entity which was presumed to have imported the vehicle to North Korea. In September, the U.S. Department of Commerce added Ma and Seajet International to its list of sanctioned individuals or entities for violating U.S. security and diplomatic interest.
Radio Free Asia also reported that the UNSC launched an investigation into South Korean President Moon Jae-in's visit to the Mansudae Art Studio during his visit to Pyongyang in September and the two Koreas' exchanges of tangerines and mushrooms as gifts for possible violation of the North Korea sanctions. Senate Foreign Relations Chairman Bob Corker told the Voice of America that there was no doubt that softening the stance on the North is one of the factors complicating U.S. policy of putting pressures on Pyongyang.
Gi-Jae Han record@donga.com · In-Chan Hwang hic@donga.com