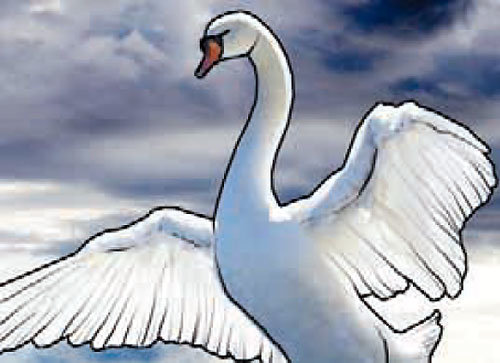 In the Greek Roman mythology, Zeus secretly watches the naked body of the Queen of Sparta Leda, who was taking a bath in the river, and laid a scheme. He transformed into a swan and created a scene where he was chased by his son Hermes, who transformed into an eagle. Leda felt sorry for the swan and held it in her arms. Then, he defiled Leda's body with his rough power.
The fresco, which have been discovered recently in Pompei, guides us into this myth. The swan and Leda in fresco, however, is strangely different from the myth. There is no fear or pain in Leda's eyes. It is also quite odd that the swan is conspicuously smaller than Leda. It appears funny that such a small figure can be the subject of violence. It is probably because elements of violence were refined as much as possible as fresco was drawn on a house. Still, violence is violence. Yet, the Romans draw it as a fresco in an individual's house, demonstrating the sadistic preference of the Roman Empire.
To understand the very essence of this myth it is necessary to refer to the W. B. Yeats' sonnet, the "Leda and the Swan," which emphasized violence much more evidently than the fresco. The line "A sudden blow: the great wings beating still / Above the staggering girl" arouses the gigantic body that made "her thighs caressed / By the dark webs, her nape caught in his bill." The marble sculpture resting in the British Museum and in the picture of Elie Faure's History of Art owned by Yeats, where a helpless small woman is caught in the bill of a huge swan, is described in Yeats' poem as it is.
The poet wrote the poem to metaphor the history of Ireland. Leda was Ireland. Leda's helpless body, laid in "white rush" of the swan was a metaphor of Ireland exposed to the violence of the Great Britain's colonialization. He tried to console sufferings of his home country from colonialization through a myth. Though the intent can be recognized it was not a thoughtful attempt. It is because the description was too violent to stay as a metaphor. Thus, lies the reason why reproducing excessive violence is so dangerous.