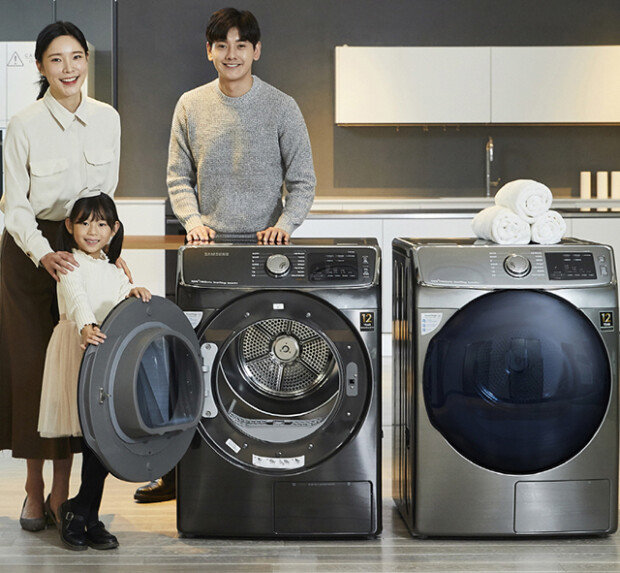 Samsung Electronics has rolled out new "Grande" dryers, gaining the upper hand in the domestic large-capacity dryer market. The newly-released model on Tuesday is capable of handling large loads of laundry such as microfiber material for winter and super-K sized blankets. The producer explained that customers demanded larger capacity dryers so that they could dry up larger loads of laundry in one go, which was reflected in the production of the new model.
The body size of the new dryer is the same as that of 14-kg capacity. However, the new one has larger inner space, greater drying efficiency and air flows. Adding to this, 360 "air holes" that emit hot air, on the rear side of the body, make sure that a large amount of laundry is dried up quickly.
The South Korean electronics company worked to minimize any possible impairments in clothes in the process of drying. As part of the solution, it limited the highest temperature of the inner space and clothes in it to 60 degrees Celsius, given that the higher drying temperatures go up, the more likely it is to get clothes shrunk. The newly released model is characterized by the feature of "air sterilization." It helps kill off 99.9 percent of everyday harmful germs and viruses such as staphylococcus aureus, bacillus pyocyaneus and colon bacillus without the use of water and detergents. Also, it removes dust and mite 100 percent. Samsung's Grande dryer can help you manage laundry cleaner and more hygienically.
Ji-Hyun Kim jhk85@donga.com