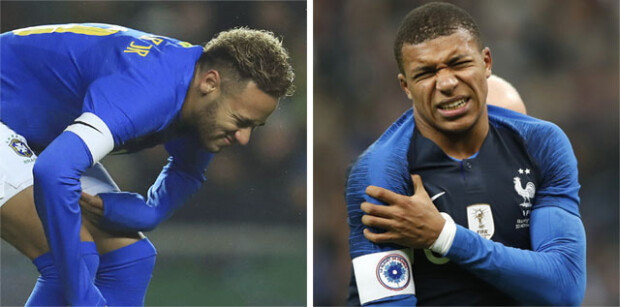 It was a terrible day for Paris Saint-Germain (PSG). The team's star duo Neymar, 26, and Kylian Mbappe, 20, both suffered an injury while playing for their country in an international match.
In the match between Brazil and Cameroon held in Birmingham, the U.K. on Wednesday, Neymar tweaked his groin as he shot at goal in the sixth minute. Feeling a sharp pain, he immediately sat down on the field and was substituted in the 8th minute. In another match between France and Uruguay held in Saint-Denis, France on the same day, Mbappe got tackled by Uruguay's goalkeeper and fell on the ground in the 30th minute. He fell hard on his right shoulder and eventually was substituted. Brazil and France both won the match 1-0 that day but the two star players could not fully enjoy the victory.
It remains to be seen whether their injuries would affect the UEFA Champions League match between PSG and Liverpool on next Thursday.
Hong-Gu Kang windup@donga.com