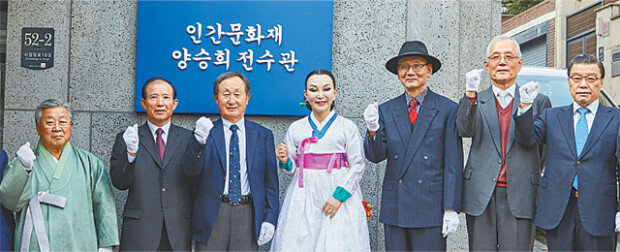 Gayageum master Yang Seung-hee, who is designated as the 23rd important intangible cultural asset, established the "Gayageum Sanjo Memorial" inside the Jeonghyo Cultural Foundation building in Seoul. It is the first institution teaching Gayageum Sanjo (free-style solo) in Seoul.
"By opening an institution in the capital city, I'll help more students learn Gayageum Sanjo easily," said Yang at the opening ceremony. "In the long-term, I'll pave the way for Gayageum Sanjo to be included in the list of UNESCO's Intangible Cultural Heritage."
Yang was destined to be a Gayageum Sanjo master. She said Master Kim Jook-pa is like her mother. "After becoming her student at the age of 20, I spent most of my time learning Gayageum at her house," said Yang. "My mother-in-law asked for Master Kim's approval when I got married." The master Kim said she would approve the marriage if Yang's mother-in-law promises to let her keep playing the Gayageum.
Yang cannot forget that day in 1999. "It was like a life-changing experience. I was practicing Gayageum while looking at the Goldfish by artist Kim Ki-chang (1913-2001). I was playing the Whimori rhythm, and then suddenly the tail of the goldfish fluttered in front of my eyes," said Yang. This story was introduced in the English listening test for the 1999 college entrance examination. "I wish my students would make classical music that passes down for centuries like Beethoven's music."
imi@donga.com