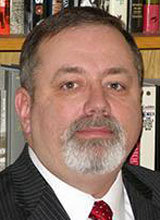 The U.S.-based Center for Strategic and International Studies (CSIS) said in its reports released Sunday that it has located 13 missile operating bases of North Korea including the Sakkanmol military base in Hwangju, North Hwanghae Province, and other undeclared bases in Chagang Province, South Pyongan Province, and Ryanggang Province.
Joseph Bermudez, researcher who authored the reports, said Monday (local time) in an exclusive interview with the Dong-A Ilbo that the regime built missile bases near the demilitarized zone (DMZ) at first, but has spread them across the country since then. He stressed that the bases were "arranged strategically in three belts across North Korea" to maximize the survival of its missile units from strikes and wartime operations.
Saying that the group has also secured the satellite photos of military bases other than those of the Sakkanmol base, Bermudez said the center has confirmed through satellite images that the bases are currently active. As for the reason the satellite photos of the Sakkanmol base were taken in March, the researcher explained that as it was the time of the year when there were few leaves on trees, all facilities including an entrance to underground facilities were clearly exposed in the photos.
Still, Bermudez made clear that no specific signs of provocation have been detected in these military bases, but only daily activities such as the movement of plastics from greenhouses or soldiers.
Speaking about the report, South Korea's presidential spokesman Kim Eui-kyeom said in Tuesday's briefing that "the intelligence authorities of South Korea and the United States have far more detailed information from military satellites." He said the Sakkanmol base facilities are for short-term missiles and have nothing to do with intercontinental ballistic missiles (ICBMs) or intermediate-range ballistic missiles (IRBMs). As for the New York Times report headlines "In North Korea, Missile Bases Suggest a Great Deception," Kim rebutted the article by stressing that the North has not promised to shut down the base, and there has been no accord or negotiations in connection with it.
It is unusual for the presidential office to directly counter a report published by a foreign private research institute. Cheong Wa Dae's stance is also in discord with the U.S. State Department that said North Korean leader Kim Jong Un's commitments include "complete denuclearization and the elimination of ballistic missile programs." The Intelligence Committee of South Korea's National Assembly is set to hold a meeting on Wednesday to be briefed by the National Intelligence Service on North Korea's missile bases.
jkim@donga.com · sunshade@donga.com