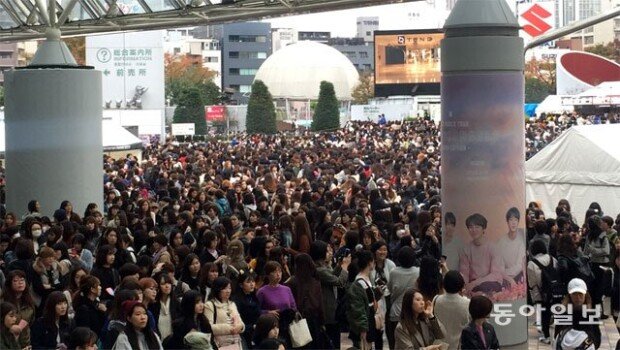 The large scale Japan dome tour of Korean boy band BTS started on Tuesday. Despite the fact that BTS faced challenges such as cancellation of a live appearance on Japanese commercial broadcast last week due to a T-shirt a BTS member wore a year ago, the support of its fans gathered in the concert site were not shaken.
Following the Tokyo dome on Tuesday and Wednesday, BTS will continue its "Love Yourself" concert in Kyocera Dome Osaka on November 21, 23 and 24 as well as Nagoya Dome on January 12-13, 2019 and Fukuoka Yahuoku! Dome on February 16-17, 2019. The tickets for the concert have been already sold out shortly after their release.
Aside from the incident where who two men shouted hate speech (hateful remarks on a certain race) for a moment in front of a subway station adjacent to the concert venue, there were no significant scenes. "Acting Conservative Movement," a right-wing organization in Japan, had posted a notice on its Internet website to convene a rally that criticizes BTS, claiming the group as "anti-Japanese artists," and "artists who make money in Japan." The organization, however, deleted the schedule for the rally all of the sudden early last week, as it became controversial.
The boom of the Korean wave was largely influenced by external elements such as politics. The second Korean wave, which was accomplished by K-pop stars such as TVXQ, Big Bang, and Girls' Generation, cooled down as the bilateral relation chilled when former South Korean President Lee Myung-bak visited Dokdo Islets back in 2012.
It is analyzed that the popularity of BTS, however, is at a level where Japanese broadcasting companies cannot control and the youths of Japan nowadays thoroughly differentiate culture and politics.
sya@donga.com · bsism@donga.com