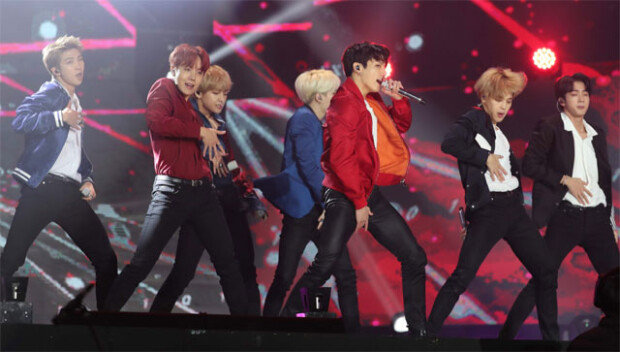 It was reported that a Japanese TV network canceled South Korean boy band BTS's appearance on its music show a day before the shooting over atomic bomb T-shirt worn by a BTS member a year ago. BTS and its staff were scheduled to leave for Japan for the show at Thursday afternoon.
TV Asahi's representative music program, "Music Station" last week aired a preview that BTS will appear on the show on Friday. The appearance was to promote the release of BTS' new single "FAKE LOVE/Airplane pt. 2" in Japan. The TV show said in its preview that unlike other artists, BTS will perform their two hit songs on the show.
But Music Station announced on its web page just one day before the shooting that it decided to postpone BTS' appearance over the controversial T-shirt worn by a BTS member. It is unusual for a Japanese broadcaster to cancel an appearance by an artist or announce the reason for the cancellation.
The T-shirt in question was designed by a Korean clothing company in August 2016 to celebrate the National Independence Day. The back of the T-shirt features a black-and-white photo of an atomic bomb, the slogan "Patriotism, Liberation, Korea" and a photo of Korean people celebrating their independence.
Meanwhile, BTS has sold almost 400,000 of their new Japanese single, which contains Japanese version of their two hits in only three days after its release.
bsism@donga.com · sya@donga.com