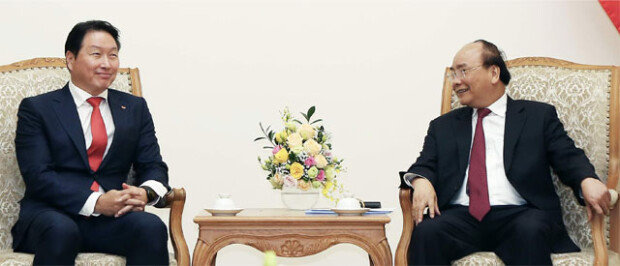 SK Group Chairman Chey Tae-won met with Vietnamese Prime Minister Nguyen Xuan Phuc in Hanoi on Thursday and discussed privatization of state-owned enterprises in Vietnam and ways to tackle environmental problems, the company said Friday.
This is their second meeting since their first in November last year. In September this year, SK Group invested 470 U.S. million dollars to purchase 9.5 percent of shares of Masan Group's holding company in Vietnam. Chairman Chey asked for increased cooperation in privatization of state-owned enterprises in Vietnam, saying that he is interested in establishing an innovation center for the fourth industrial revolution in Vietnam. The Vietnamese prime minister responded that his government will provide its full support to the collaboration between SK and its corporations.
Chairman Chey also participated in the first "Hanoi Forum," which opened on Friday. The forum is co-hosted by Korea Foundation for Advanced Studies and Vietnam National University. Chairman Chey attended the forum as the chairman of the foundation and spoke about SK's efforts to pursue social values.
Tae-Ho Hwang taeho@donga.com