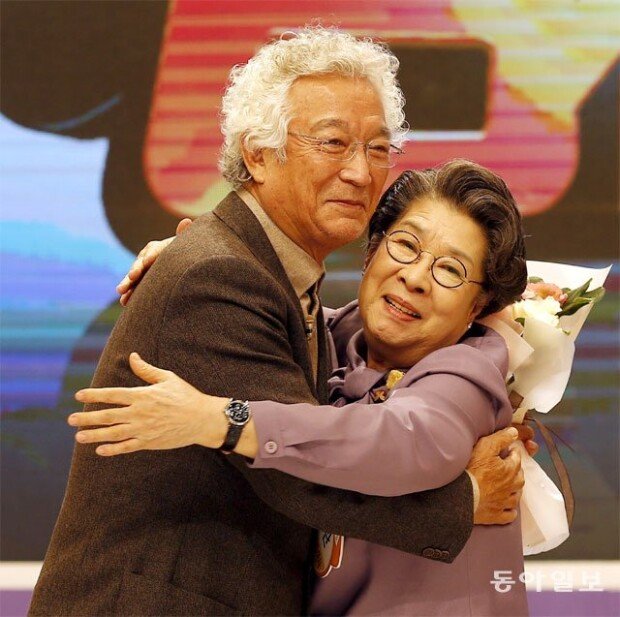 "I hope my husband meets a soft woman in heaven to hold hands and play about on clouds with," said actress Um Aeng-ran (82) at Asan Medical Center's funeral hall in Songpa-gu, Seoul on Sunday. Shin Sung-il and Um got married in 1964 and spent 55 years together with love, hatred and compassion.
They first met while filming "The Barefooted Young" in 1964. "He was not a family man. He was crazy about films, and I was mostly left alone to take care of what was going around at home," said Um. "He usually came home, slept in bed and left again early in the morning. I thought we could have some time together in our late years, but I guess it is meant to end like this."
Shin's will was as free and romantic as his life. Um said when their daughter asked her father if he had any property to leave for her, he said he had nothing to leave behind. And he also said, "Tell your mother I thank her for everything and I am sorry." "He was crazy about his work, but I respected him. That's why I stayed with him for 55 years," Um said. "If he was a pushover, I wouldn't have done that for him."
Shin was actively involved in the film "Sohwakhaeng (tentative title)" that he was about to film even in his last moments. "He was a film mania to the core," said Um. "I realized how much he loved films when I saw him think about his film until the very moment of death."
Their love shined more brightly in crisis. When Um was diagnosed with breast cancer while shooting Channel A's TV program called "I am a Body God" in December 2015, Shin, who had been separated with Um for more than 20 years, nursed her devotedly. "I saw a man pulling my bed after I woke up after a surgery. It was my husband whom I hated so much," said Um. "I felt safer with him than with my doctor even though I hadn't seen him for quite a while."
When Shin was diagnosed with lung cancer, Um paid for all of his medical bills. "I can't let my husband die in a pathetic way. I paid for all the bills so that he could stay in a VVIP room," said Um in an interview with Channel A's News TOP10 in March.
Won-Mo Yu onemore@donga.com