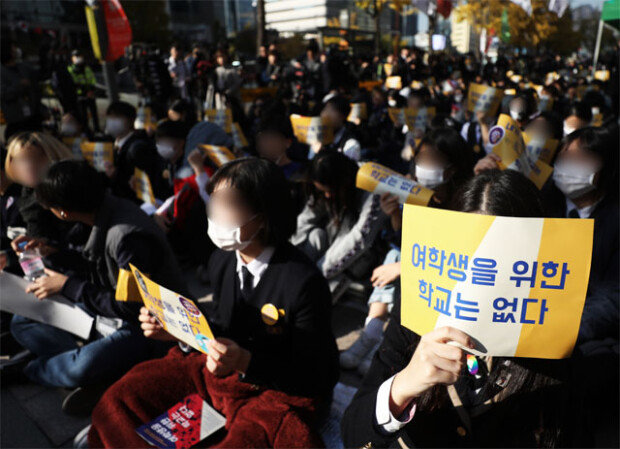 In the afternoon of Students Day, which falls on Saturday, around 30 organizations including Youth Feminism organized an assembly titled "No school for girls" under the theme of #MeToo. Around 250 middle and high school students in uniform – calculated by the organizers - gathered in front of the Seoul Finance Center in Jung-gu, Seoul, singing a revised version of "Gratitude toward Teachers" with tweaked lyrics. The gathering was the first of its kind since students at Yonghwa Girls High School in Nowon-gu, Seoul disclosed in April their experiences with sexual harassment as part of the #MeToo Movement.
"More than 30 schools across the nation joined the movement but proper measures had not been taken to hold the accused accountable," the organizers argued." The Education Ministry and school authorities have sacked only a few teachers accused, inflicting secondary damage on the victims. Relevant authorities should execute nationwide field surveys of in-school sexual violence and strengthen regulation and punishment." Students' requests included training sessions to promote feminism among school teachers and workers, and to revise the Private School Act and the Students Human Rights Act. Young protesters broke down a blackboard with sexually discriminative comments written on it during the event.
On stage, #MeToo victims in school came forward to reveal their case or their statements were read out by delegates. Their messages are to condemn sexual violence inflicted by male teachers and male students in school, pointing out the following measures improperly taken by school authorities.
Most assembly participants wore a white mask on the face. A 17-year-old girl surnamed Park confessed that some friends of hers were sexually harassed at school, but they decided to keep it unrevealed for fear of being put at a disadvantage regarding university admissions. She hoped to make sure students' rights are highly appreciated at school in the wake of this assembly.
Participating students marched to the Seoul Metropolitan Office of Education where they put up a placard that says '#With you' at the front gate after the assembly wrapped up. The second round of assembly will take place on Nov. 18 in Jung-gu, Daegu.
eunji@donga.com