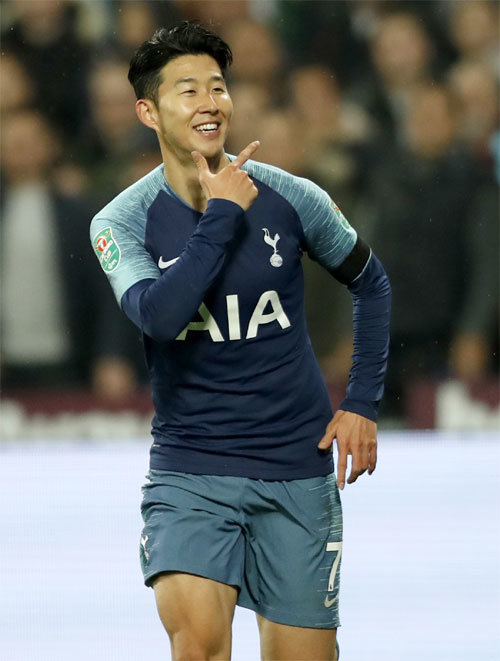 In the first half of the game, Tottenham Hotspur Forward Son Heung-min swept Dele Alli's pass into the corner with his left foot. Son, who was running with tight fists, kneeled and slid across the ground and bellowed. With high confidence and excellent condition, he scored his second goal nine minutes into the latter half of the game, dribbling the ball for some 30 meters. The English Premier league star put up two fingers and grinned.
The quarter final round of the English Premier League between Tottenham and Westham on Thursday was held in London. Son scored his first goal of the season. It was not even one goal, it was multiple times. The second goal determined victory for his team, which won by 3-1.
Thursday's match marks Son's 150th game at Tottenham. "I felt burdened to my team because I wasn't able to score until now. Finally I've regained the feeling," the Korean footballer said. "Now that I've got my confidence back, I hope to continue to do well in the next match with Arsenal."
Son is predicted to gain an advantageous position to be chosen for the starting line-up. Son's competitor, Erik Lamela, has failed to show good performance in the match with Manchester City, despite the fact that the defense player did not mark him. In addition, based on the agreement between the Korea Football Association and Tottenham, Son will be allowed to focus only on matches for his team, instead of playing the Korea National Football Team's A match that will be held in November.
"Son's ability to score cannot compare with other players, said Han Jun-hee, sports commentator for KBS. "With his physical strengthen and goal scoring skills at top-notch, Son's position will grow further in his team."
Yun-Cheol Jeong trigger@donga.com