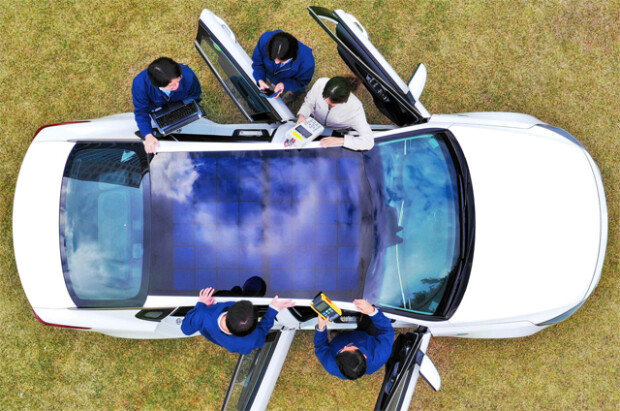 Hyundai Motor and Kia Motors are heralding a new era of solar-powered cars. Hyundai and Kia on Wednesday unveiled their solar charging system technology via their own media channel HMG Journal and HMG TV. The solar charging system will serve as an auxiliary power supporting the main power source. The system will increase the mileage of eco-friendly cars, including electric and hybrid cars and enhance fuel efficiency by charging batteries in cars with internal-combustion engine.
The first generation silicone-type solar roof will be applied to their hybrid models. It is capable of charging 30-60 percent of the battery a day depending on the season and the environment. Hyundai and Kia are planning to apply the first generation solar roof to their eco-friendly cars from 2019.
The second generation semi-transparent-type solar roof, which is the world's first solar roof for combustion-engine cars, will be equipped on a panorama sun roof. If solar charging system is applied to combustion-engine cars, it would increase their global shipments as the system will help meet global environmental regulations by cutting carbon dioxide emissions.
The third generation solar lid, which is currently under research, will feature solar panels on the roof and bonnet to maximize energy output.
Seok-Jun Bae eulius@donga.com