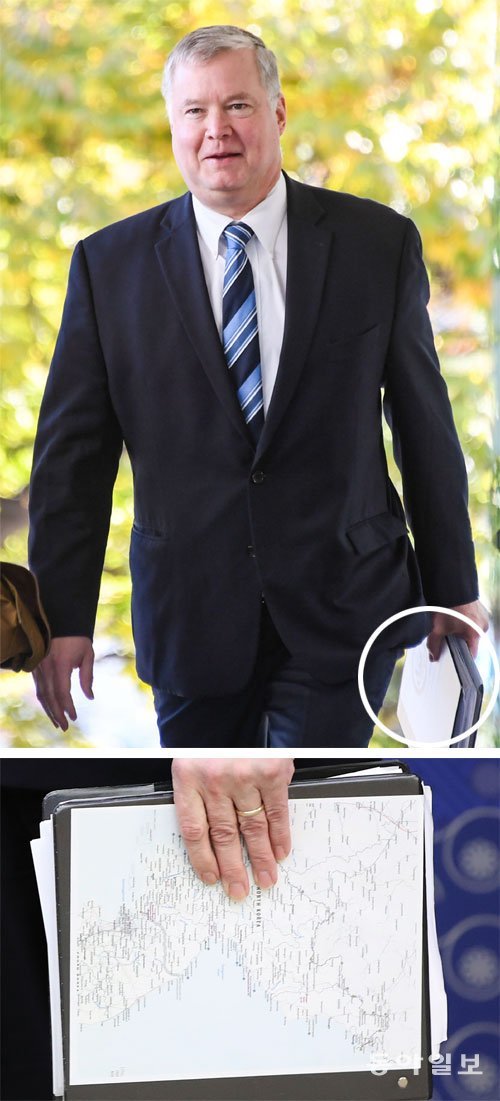 "We have a shared goal here, which is to bring an end to 70 years of war and hostilities on the Korean Peninsula," Steve Biegun, United States Special Representative for North Korea, said on Monday. "And the primary requirement for us to get to the end point is to achieve final, fully, verified denuclearization (FFVD) of North Korea."
While meeting with his South Korean counterpart Lee Do-hoon at the Ministry of Foreign Affairs in Seoul, Biegun said he is absolutely confident that this shared goal is within reach. Biegun brought with him a bulky set of documents, including a map of North Korea containing detailed names of places. Observers in the diplomatic circle said the two representatives might discuss specific plans for nuclear inspection and corresponding measures.
Biegun earlier met with South Korean Foreign Minister Kang Kyung-wha has and will stay in Seoul until Tuesday to meet with Unification Minister Myoung-gyon and officials from the National Security Office.
Amid stalled nuclear negotiations between the U.S. and North Korea, U.S. President Donald Trump reiterated that he will not play the "time game" with North Korea.
"I tell my people I do not care how long (it will take for North Korea to denuclearize) as long as there is no nuclear testing," Trump told supporters at a rally in Illinois on Oct. 27 (local time). Trump presented an optimistic view by saying, "The relationship (between the U.S. and North Korea) is really good and they're happy and we're happy."
lightee@donga.com · parky@donga.com