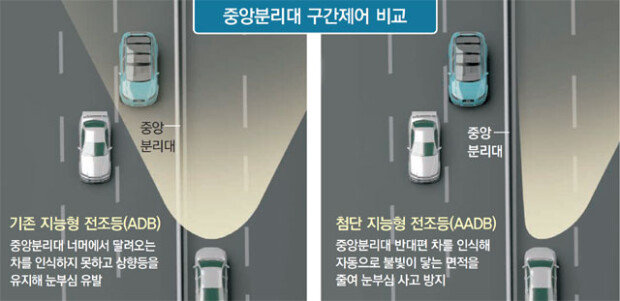 Hyundai Mobis Co., Korea's largest auto parts maker, said Wednesday that it has developed the world's first advanced headlamp system that automatically controls vehicles' headlamp beams. If commercialized, the technology is expected to help reduce car accidents caused by high beams or strong glare obstructing the visions of other vehicles' drivers.
The company claimed that the advanced adaptive driving beam (AADB) headlighting system, which operates in connection with an advanced driver assistance system, allows wide visibility for drivers by enabling a vehicle to be driven with high-beams all the time while avoiding glare to oncoming vehicles. There are similar advanced driving beam (ADB) systems but they are technologically inferior to that of Hyundai Mobis, the company said. The ADB systems recognize cars ahead in the same lane and oncoming vehicles in the opposite lane to control the headlamp beams to prevent glare to other cars.
Hyundai Mobis' latest AADB controls headlighting by collecting more data than existing ADB systems, including lane information, the distance with the vehicle coming from behind, highway and road information, and the curvature of curved roads. As a result, the AADB system recognizes vehicles passing from behind and those in the opposite lane with a sharp curve, preventing the headlamps from beaming in those directions. Hyundai Mobis said it took the company 18 months to develop the technology.
High beams are a major cause of car accidents caused by glare, as it temporarily obstructs the vision of drivers on the opposite lane. Hyundai Mobis has applied for six AADB-related patents in Korea and 12 in other countries.
"(The AADB) has price competitiveness as the technology was developed by adding new software to existing systems," a company official said. "We plan to put it into commercial use as early as in late 2020."
Eun-Taek Lee nabi@donga.com