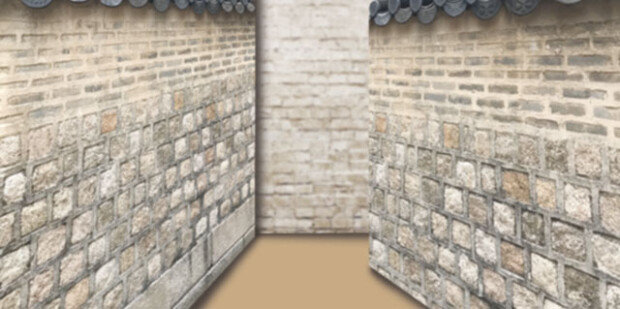 You can have a chance to visit a restaurant on a group tour to China. When you go along a narrow and mundane entrance path, new deep space welcomes you. This venue accommodates several thousands. In fact, a military-type design plan is applied to this private house. For example, the path from an inner gate to an inner house unit is narrow while space with a three-sided window to monitor the corridors is also applied the same way castles are designed.
In Ginkaku-ji Temple in Kyoto, a path stretches forward with tress on its both sides. Walking along the path and making a left turn, you can find a ticket office. The path is also part of basic designs to defend and protect against enemies. The invader has no option but to be monitored along the path while having no idea how many guards are waiting for him. Such a long and cornered path has been around in palaces in the Assyrian Empire with endless war periods as well as the Hittite palace discovered deep in the forests of Turkey. A military camp site in the Joseon Dynasty, Jangyongyoung, is not left preserved but only a plan of the site implies the existence of a narrow and cornered path from the inner space to the armory. However, it is rare to find private houses or palaces designed in a military type plan in the Joseon Dynasty compared to the cases in China and Japan.
In every country, military budget accounts for the majority of the fiscal plan. However, military investment is not a waste of money in the end. Fortification technology has evolved to help develop architectural technologies. GPS and computing systems, once developed for military use, have penetrated across society to be utilized for civilian purpose. Not only with that, there are numerous examples where military constantly interacts with other sectors such as industry, civilian life and business, creating a synergy effect.
However, just as shown in a house design plan, we lack visible experience with such interactions, which only makes us regard military as a necessary but inconvenient arena. Koreans' experience with the rule of militant leaders must have influenced how they think of military. Nevertheless, what matter is to correct the wrongs, not putting them aside. To make things right, the military and civilian society should make a concerted effort to normalize the situation.
Won-Joo Lee takeoff@donga.com