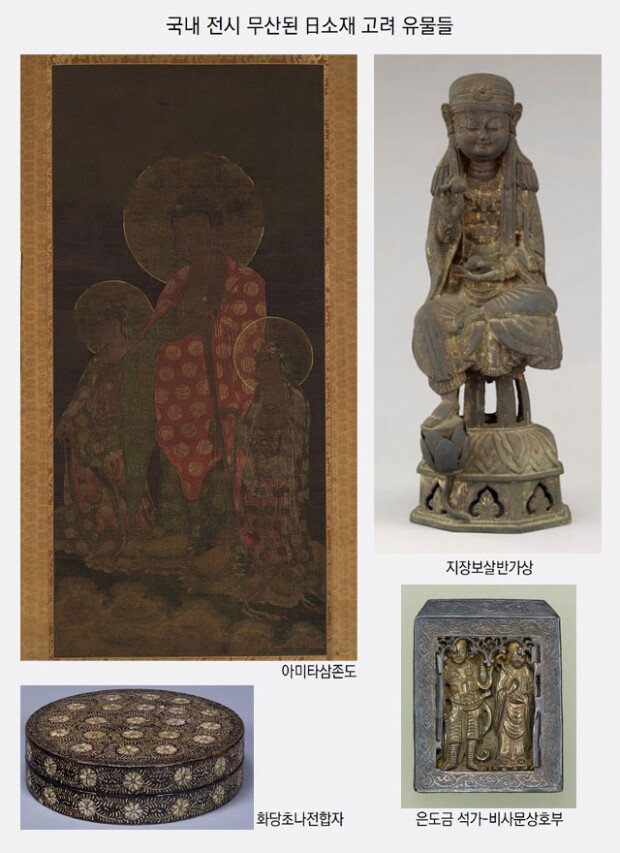 "These cultural heritages must have been designated to be on the list of national treasures if they were possessed domestically," said Jeong Woo-taek, former Director of the Dongkuk University Museum. "I hope that they will be exhibited here in Korea so that we can research and enjoy them (even if I wish they were possessed by Korea)."
He expressed frustrations while explaining about the Amitabha triad that the Tokyo National Museum has been with. This triad represents the Buddha Amitabha (Korean: Amita), Avalokitesvara (Korean: Gwaneum) and Mahasthamaprapta (Korean: Deseji) greeting devotees to Amitabha's Western Paradise. It is known as the best masterpiece that uses double coloring techniques, the epitome of the Goryeo Dynasty, and expresses Buddhist texts in gold.
Expectations were increasing that the National Museum of Korea, located in Seoul, will exhibit the masterpiece as part of a December-scheduled special exposition titled Goryeo: The Goryeo of Korea in celebration of the 1,100th anniversary of the Goryeo Dynasty. However, as the Tokyo National Museum refused to lend it, the original plan has been left unrealized. Japan requested Korea provide convincing evidence that the Amitabha triad could be returned to Tokyo, of which Korea failed to meet its requirements. There are only 20 pieces of lacquerware inlaid with mother-of-pearl kept preserved to date. The same requests were cited by Japan and the lending was refused with a lacquered box inlaid with chrysanthemum patterns and an orchid patterned Buddhist ligature possessed by the Tokyo National Museum, and the statue of the cross-legged Jijang Bosal by the Kyushu National Museum, the only piece that represents the drawing of the Buddhist saint.
This may have resulted mainly from the incident of a stolen statue of the Buddha in Tsushima Island, 2012. A Korean thief was accused of stealing the statue. Back then, the Daejeon District Court refused a return of the statue to Japan, ruling that the Buseoksa Temple located in Seosan, South Chungcheong Province, would take the heritage. Such precedents have caused overseas museums and art galleries, with Korean cultural heritages in their permanent collections, to hesitate to lend them to Korea, worrying about a possible seizure.
Won-Mo Yu onemore@donga.com