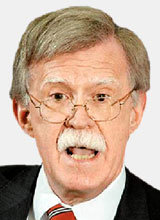 A subtle change is emerging in the situation of negotiations between the United States and North Korea, which seemed to be picking up speed after U.S. Secretary of State Mike Pompeo's fourth visit to Pyongyang. While Pyongyang is not giving concrete answer to Washington's offer for walking-level talks, Washington is postponing a second Washington-Pyongyang summit, as the two sides are effectively engaging in a war of nerves.
In an interview with a radio station on Friday (local time), U.S. National Security Advisor John Bolton said he expected a second summit between President Donald Trump and North Korean leader Kim Jong Un "sometime in the next couple of months." He went on to say that "The future remains uncertain on the president's diplomacy. The president is optimistic. He presses hard. He does not have stars in his eyes about this." He added President Trump's comments of a second Washington-Pyongyang summit after the midterm elections to indicate that the second summit could be scheduled in December or even next year.
If what Bolton said proves to be true, the convening of the second summit within this year cannot be effectively guaranteed. "National Security Advisor Bolton's statement of 'in the next couple of months' could be the Trump administration's strategic choice of words, hinting that the administration is not impatient about the summit," a diplomatic source in Washington said.
During Secretary Pompeo's visit to Pyongyang, the U.S. and the North agreed to form a channel for working-level talks between the North's vice foreign minister Choe Son Hui and Washington's Special Representative for North Korea Stephen Biegun. However, the North is reportedly not responding to Washington's offer for working-level talks for more than a week. As a result, a second summit before the midterm elections, which the North wanted is set to fail to occur, while the U.S is negative about the North's offer to invite President Trump to Pyongyang, which has prompted critics to suspect that the North has started to drag its feet.
Jeong-Hun Park sunshade@donga.com