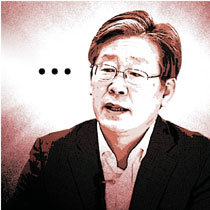 In 2008, singer Na Hoon-a took the podium in front of him in a room full of reporters. He unbuckled his belt, unzipped his pants, and said, "I'll show you for five minutes. Or you won't believe me." The press conference was held by the singer to deny rumors that he had been castrated by a Japanese yakuza gangster. "I believe," yelled female fans in the room. Na stared at the crowd and finally climbed down the podium.
Police raided the residence and office of Gyeonggi Province Gov. Lee Jae-myung Friday with a search and seizure warrant. As Lee's body was included in the target of search, attention was focused on the word body. The word "body" may have reminded many of a recorded telephone conversation between a novelist and actress Kim Boo-sun, where she says Gov. Lee has a large black mole on his body. Police said the search has nothing to do with his scandal involving the actress, but was about allegations that the governor forcefully hospitalized his brother.
Cars, houses, and body are usually included in the target of search and seizure. Especially so when cell phones have become the most important target of seizure. Therefore, there is nothing special about the search and seizure warrant involving Lee. A process, where police checks if he has a mole on his body, is part of physical examination. The physical examination is regarded as verification. A search and seizure warrant is officially called, "Search, Seizure, and Verification Warrant" but it remains to be seen whether the search and seizure warrant involving the governor included verification. If physical examination is included in the warrant, the body parts that are the target of physical examination are recorded in the warrant. The search and seizure warrant involving Lee reportedly did not contain such content.
Charges filed and accusations made during an election process are generally dropped after an election. Gov. Lee has been in office for more than 100 days but the charges filed against him have not been dropped yet. He said Friday that he is willing to be examined by an accredited medical institution. If he refuses to undergo physical examination, it will only raise suspicions and result in indictment. Then, he will have to be tried in a court. If Lee cannot avoid physical examination, and if he is confident like the singer Na Hoon-a, it is better for him to do it now.
Dong-Yong Min mindy@donga.com