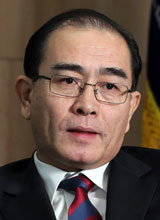 This is not the first time for North Korea to plan on inviting pope for the purpose of propaganda. According to a memoir by former North Korean Deputy Ambassador to the U.K. Thae Yong-ho, the hermit nation planned on then Pope John Paul II's visit to the North in 1991 as well. Thae revealed the relevant situation in detail in his book called "The Code of 3rd Floor of the Clerk Room," which was published in May.
As the Soviet Union and China formed diplomatic ties with South Korea as a result of the then President Roh Tae-woo administration's diplomacy for the Northern Region in the 1990s, former North Korean leader Kim Il Sung pushed forward the visit by Pope John Paul II for fear of diplomatic isolation, Thae says. A task force was established to invite the pope to the Foreign Office with Kim Il Sung's order and Mr. Thae was also included in the task force.
Back then, the Vatican requested North Korea to bring Catholic believers in to the Vatican if there is any." The Security Office of North Korea took an old woman who was identified to be a Catholic until the Korean War to the Vatican. "The Lord, who comes into our heart, never leaves me," said the old woman when she met the pope, expressing her faith she hid even from her children for tens of years.
North Korea, however, paradoxically gave up its project to invite the pope on its own because of the old woman's faith. "The Vatican recognized her as a Catholic just by looking at her in the eyes," said Mr. Thae. "The Workers' Party of North Korea realized the power of religion. The task force to invite the pope was dismissed in just some two months as North Korea was afraid how popular Catholic will become once the pope actually visits the North."
It has also been said that Kim Jong Il's pessimism over the pope's visit, unlike Kim Il Sung, also affected the failed visit. According to Mr. Thae, officials from the Ministry of Unification Business of the Workers' Party, which took orders by Kim Jong Il, revealed a passive attitude, saying, "The number of Catholics will increase once the pope visits the North. And, who will be responsible for this?"
Sang-Jun Han alwaysj@donga.com