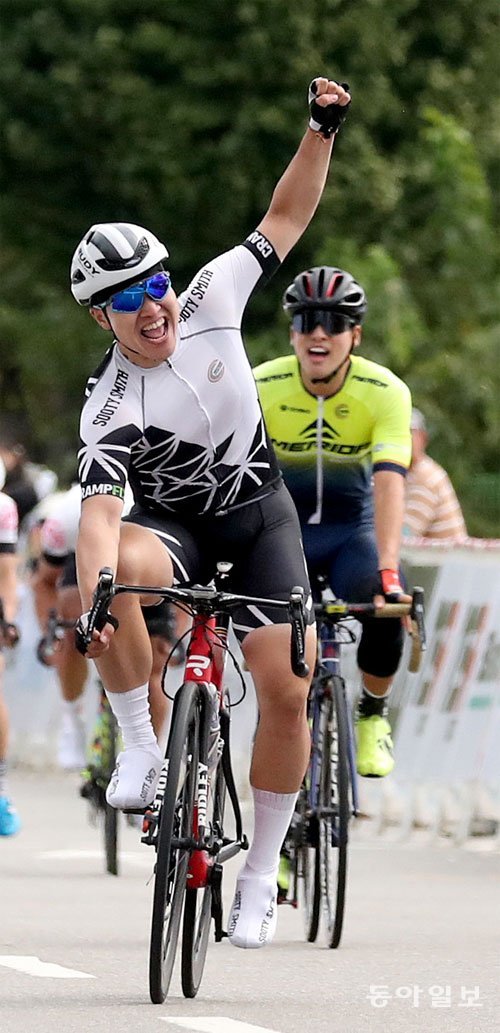 Daniel Marquardt has become the owner of the "Yellow Jersey" at Tour de Korea 2018 Special, which is the "dream stage" for cyclists.
As the 35-year-old from the United States covered the 63.6-kilometer third section, starting from Imjingak to Seolmari hill in one hour 24 minutes and 36 second Tuesday, he acquired the yellow jersey with a total of five hours 26 minutes 10 seconds in all three sections.
The bonus time has made all the difference. Marquardt entered the finish line at the same time with Cheon So-san, who ranked the first until the day before. Marquardt, however, outran Cheon by two seconds, by receiving three seconds of bonus time for passing the sprint section at first place. Cheon ranked second place overall for two consecutive years while the third place went to Lim Geon-yeop (age 31), who recorded five hours 26minutes 17 seconds.
The winner of this year's Yellow Jersey finished at eighth place last year because of a flat tire with some 20 kilometers left until the finish line even though he was in the lead for all three sections. "I was so nervous that I couldn't even eat breakfast this morning before the race," said Marquardt. "Luckily, I was able to gain stability with good scores at the sprint section. I am so happy to win this year, overcoming last year's hardships."
Marquardt enjoyed cycling as a hobby while working as an English teacher at Jinju, South Gyeongsang Province until a few years ago. Now a member of the Watts Racing Team and employee of Watts Cycle, a company that imports foreign bicycles, he is in charge of communications since 2016. Four out of six members of the Watts Racing Team that participated this year race were foreigners.
The king of mountains went to Park Jong-il (age 30) and sprint to Hwang Gyu-tae (age 29). Bae Jun-beom (age 20) won the Best Young Rider Award at the competition for those who were born before 1993. The 12th annual event was held in Goseong of Gangwon Province, Hwacheon, and Paju, which share a border with the Demilitarized Zone, in line with sports exchanges between the two Koreas.
Heon-Jae Lee uni@donga.com