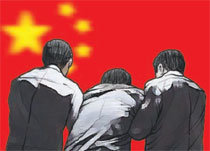 The president of the International Criminal Police Organization (Interpol) has been reported missing after a trip to China. The Interpol is headquartered in Lyon, France. Meng Hongwei's wife who lives in France reported his disappearance to the French police. She told the police that she had received a phone call threatening her husband's life and has not heard from her husband since he arrived in Beijing via Stockholm on September 20.
The press in France and Hong Kong reported that Meng was taken away as soon as he arrived at the airport and is being questioned by Chinese authorities for corruption allegations. Chinese actress Fan Bingbing disappeared for more than four months, which created a lot of rumors including her death, detention and exile. She appeared on social media on Wednesday and issued a statement apologizing for her tax evasion, suggesting that she was investigated by the Chinese government.
Chinese billionaire Xiao Jianhua disappeared in Hong Kong in January, and no one has heard from him since then. It seems that he engaged in corrupt activities, but Chinese authorities never announced where he was being investigated on what charges. Nobel Peace laureate Liu Xiaobo's wife Liu Xia was placed under house arrest by Chinese authorities after her husband died in July 2017 until she came to Germany in July this year.
Surveillance and detention without appropriate procedures is a typical feature of autocratic states. Democracy starts from demanding bodily freedom under Magna Charta. A civilized country should guarantee a right to appoint a lawyer and notify friends and family when arresting a person, which is the basic human right. A sudden disappearance cause a panic not only to the person who is taken away but also to family and friends who might assume that the person is dead. Chinese President Xi Jinping strikes the people including the Interpol's president and family with terror and is strengthening one-man leadership.
pisong@donga.com