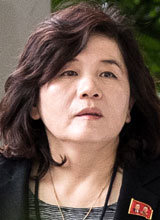 North Korean Vice Foreign Minister Choe Son Hui arrived in Moscow on Saturday (local time) to hold a trilateral meeting with China and Russia. On the second leg of her trip, Choe will take part in vice-ministerial talks with Russia on Monday, and trilateral talks including China on Tuesday, according to Russia's Tass news agency.
Her reason for heading Moscow apparently comes down to two. One is to fine-tune the timing of a visit by North Korean leader Kim Jong Un to Russia, which is expected to take place within this year. Russian President Vladimir Putin had invited Kim when Russian Foreign Minister Sergey Lavrov visited Pyongyang in May.
The other is to seek support from its two allies in demanding that the United Nations Security Council lift sanctions on the regime, which the North has called for as a corresponding measure to its denuclearization steps. The three-way meeting on Tuesday will involve Russian Deputy Foreign Minister Igor Morgulov and Chinese Vice Foreign Minister Kong Xuanyou.
Choe's trip comes as U.S. Secretary of State Mike Pompeo headed to Pyongyang for the fourth time on Sunday. While Pompeo was accompanied by Stephen Biegun, U.S. Special Representative for North Korea, his North Korean counterpart left for Moscow, making it unlikely for the key working-level officials to sit face-to-face this time, whom Washington had earlier suggested get together in Vienna to have denuclearization talks.
Na-Ri Shin journari@donga.com