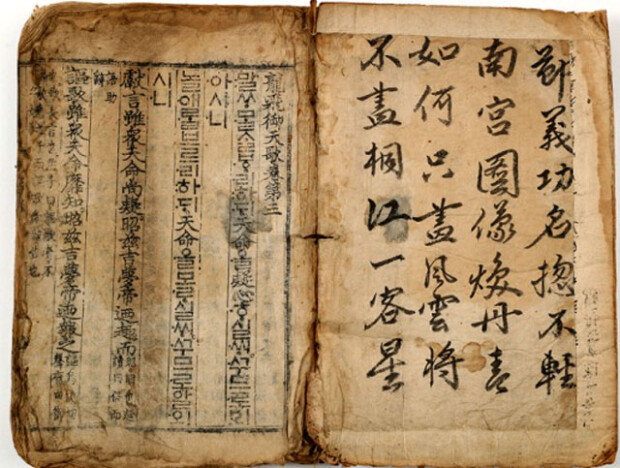 A new wood block printed edition of Yongbieocheonga (Songs of the Dragons Flying to Heaven), an official affirmation of the Joseon Dynasty and its ancestral heritage and the oldest literature written in Hangeul, or the Korean alphabet, has been made public ahead of the October 9 Hangeul Day.
The Advanced Center for Korean Studies said Thursday that a clan in Yeongcheon, North Gyeongsang Province, had donated a 16th century reprint of the initial copy of Yongbieocheonga. The original copy was published in 1447. The reprinted edition is Book 2, which consists of Volumes 3 and 4, of the five-book, 10-volume Yongbieocheonga. Two volumes of ancient Korean books are considered one book.
Yongbieocheonga, which represents the early Joseon Dynasty period's akjang (musical scores written in Korean script, is the annotated text of songs praising the first six kings of Joseon and successive Chinese emperors. Joseon's leading Confucian scholars of that time composed the music and added annotations. As the process in which the books were handed down to the contemporary times is clearly recorded, the books are assessed to be of high historic and literary research value.
The Advanced Center for Korean Studies said that the newly found copy is in great shape, unlike the partially damaged the copy designated as Treasure No. 1463, adding it plans to apply for the status of a state-designated cultural assets.
Won-Mo Yu onemore@donga.com