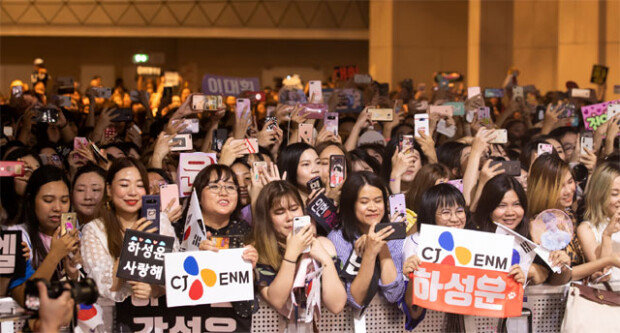 All the audiences shouted out "Gashina," the title of one of Sunmi's hit songs with an accurate Korean pronunciation, in response to her question "Which one do you want me to sing for you?" The 2018 KCON Thailand was held in Bangkok on Saturday. The largest concert hall in the city was heated up with the audiences shouting out enticed by her performance and dancing.
One K-pop fan said that she came to the concert to see Wanna One who performs at the last part of the event. She happened to become a big fan of Korean pop culture two years ago when she came across K-pop and Korean dramas. She felt excited to see K-pop stars perform in Thailand, she said.
Two days of the 2018 KCON Thailand saw around 42,000 audiences, way beyond expectation. The CJ ENM-organized event is held every year on a tour across the Americas, Europe and Middle East Asia, making it the largest-ever Korean Wave festivals in the world. This year, Southeast Asia accommodated the first round of the concert tour. It took as short as two hours to have a total of 22,000 seats sold out. Around 22,000 fans, who failed to buy tickets, instead visited an exposition on Korean culture that was held near the concert hall, at the Impact Exhibition Center.
Alan uploads video clips of K-pop cover dancing on YouTube, with more than 300,000 subscribers. The 22-year-old YouTuber said that YouTube and Facebook are the most favorite social networking platforms among young Thai people, adding that these media promote K-pop and Korean dramas in real time across the globe.
The KCON also helps mid-sized businesses, who find it hard to enter the Southeast Asian market on their own, have opportunities to open up their ways. This year, 18 Korean businesses joined the KCON. LOCK & LOCK, a Korean kitchenware producer, expected that the event will make sure to help promote its products as the cultural event is a magnet for young consumers.
"Southeast Asia has emerged as a new target destination since the Chinese government's bans on Korean cultural content," said Shin Hyeong-kwan, head of the Music Content Unit of CJ ENM. "The K-pop concert in Bangkok can lead to various K-wave projects including music business given that Thailand has great cultural influence for its neighboring countries."
Ga-In son gain@donga.com