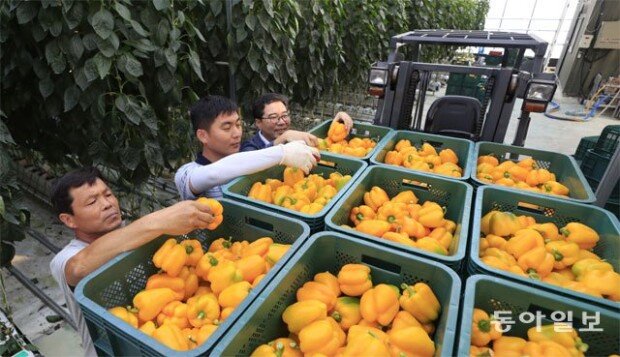 The paprika greenhouse in Namwon, North Jeolla Province we visited on last Tuesday was not a typical greenhouse. It was gigantic in size, 7,900 square meters wide and more than 6 meters in height, as paprika grows as high as 6 meters. Inside the greenhouse was a forklift carrying red, yellow, and orange paprika outside the greenhouse. What was also impressive was its strict access control. It prohibited outsiders from entering the greenhouse in order to prevent virus infection. Our visit was made possible through the arrangement by the Korea Agro-Fisheries & Food Trade Corporation (aT). The strict management of the greenhouse was the reason why paprika has become the most exported produce from Korea, surpassing 100 million U.S. dollars in export for the first time this year, only in 20 years after it was introduced in Korea.
"I can barely get off the forklift to meet the orders piling up at home and abroad around Korean Thanksgiving Day," said Lee Jeong-gu, owner of the greenhouse. "A box of paprika (5 kg) costs from 45,000 won to 60,000 won, depending on the quality of paprika, and the later the harvest, the lower the price."
Paprika was first introduced in Korea in 1995, when Cho Gi-shim brought Dutch paprika seeds from Japan to grow in 1.1 hectare of land in Gimje, North Jeolla Province.
In a short period of time, paprika grown in Korea occupied the Japanese market, where Dutch and New Zealand paprika had most of the market share. While seeking to satisfy picky Japanese customers, Paprika farmers in Korea accumulated much know-how and knowledge in growing paprika. The number of smart farms, which use ICT and mobile devices in growing paprika, has increased as well.
The computer monitor in Lee's office showed the temperature and humidity of all 10 greenhouses. The moisture, ventilation, and heating of the greenhouses were controlled with a click of a button using a complex environment control system. The seedlings were automatically provided with water and nutrition according to the amount of sunshine.
Paper bags containing insects were attached on paprika stems so that the insects can get out of the bags and kill pests that attack paprika. The attacks from pests, such as two-spotted spider mite, common cutworm, and aphid were successfully handled with the use of insects.
Another factor that enhanced the quality and competitiveness of paprika was creation of production complex, such as agricultural association or producer cooperative by individual paprika farmers. There are a total of 429 members in 36 production complexes across the country, according to the Ministry of Agriculture and the aT. Paprika produced in the same complex are sent to sorting centers of regional distributors or agricultural cooperatives and sold under the same brand.
Jae-Yeong Yoo elegant@donga.com