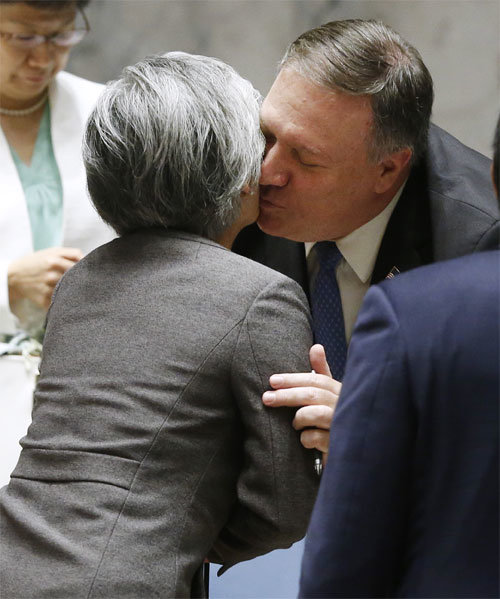 Before making a fourth visit to the North next month, U.S. Secretary of State Mike Pompeo practically dismissed the possibility of phasing out sanctions against North Korea, reiterating the existing principles of denuclearization preceding a lessening of sanctions, in his remarks at a United Nations Security Council meeting that he presided over. In response, Chinses and Russian foreign affairs ministers stood against the United States, arguing for a weakening of North Korea sanctions.
Mr. Pompeo hosted a ministerial-level meeting regarding the denuclearization of North Korea at the headquarters of the United Nations in New York City on Thursday (local time). "Past diplomatic attempts to halt North Korea's nuclear and ballistic missile development were unsuccessful. But now we're at the dawn of a new day," he said. Such optimism gives us a practically official hint that there has been a turning point in terms of the denuclearization of North Korea since U.S. President Donald Trump and North Korean leader Kim Jong Un had a Singapore summit in June.
However, the U.S. working-level head of negotiations with the North delivered a message somewhat different from the U.S. president's highly complementary remarks about Kim's determination to denuclearization. The gist of the secretary's message lies in maintaining the current level of sanctions. "We must not forget what's brought us this far," Pompeo said. "Until the final denuclearization of the DPRK is achieved and fully verified, it is our solemn collective responsibility to fully implement all UN Security Council resolutions pertaining to North Korea." Implicitly, but practically, he dismissed a possibility of simultaneous and step-by-step measures that the North wishes.
The New York Times reported that the secretary of state may disturb Pyongyang by arguing for keeping economic sanctions in place. Pyongyang may prefer to meet President Trump who it finds more cooperative (than Pompeo) according to the newspaper's analysis.
Yong Park parky@donga.com