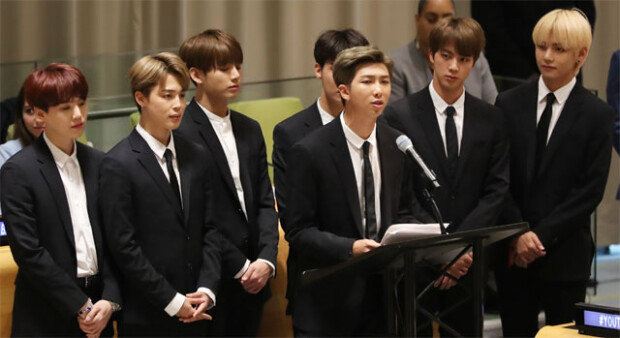 As all seven members of K-pop band BTS dressed black suits entered the conference hall of the Trusteeship Council of the UN headquarters in New York, the United States, where the 73rd UN General Assembly was held on Monday afternoon, people started to make a commotion. Delegates of each country were busy taking photographs with their smartphones.
After some 40 minutes since the commencement of the meeting, Jayathma Wickramanayake, the UN Secretary-General's Envoy on Youth., introduced BTS with humor saying that she had to stop her sister from wanting to come to today's meeting, adding that her sister wanted to listen to the BTS speech. The audience responded with laughter and applauses.
"Even after making the decision to join BTS, there were a lot of hurdles. Some people might not believe but, most people thought we were hopeless, and sometimes I just wanted to quit. I think I was very lucky that I didn't give it all up."
BTS leader RM, whose real name is Kim Nam-joon (age 24), introduced himself as a person from Ilsan (Goyang City), Gyeonggi Province and delivered an English speech for six minutes, drawing a bond of sympathy with youth all around the world with his own genuine story.
"I used to look at the night sky and wonder and I used to dream the dreams of a boy. I used to imagine that I was going to become a super hero who could save the world. Looking back, it was when I was nine or ten I started worry about what other people thought of me and started to see myself through their eyes," recollected RM. "I had one sanctuary and that was my music. I had a small voice inside of me that told me to wake up and listen to myself. So, I urge you to speak yourself. I like to ask all of you what is your name, what excites you and what makes your heart beat.
The purpose of this event was to announce a newly launched youth program by UNICEF called "Generation Unlimited" as part of an effort for the UN secretary-general's youth agenda "Youth 2030." BTS was the first Korean singer ever to deliver a speech at the event hall of the UN General Assembly. The K-pop group was invited to this event as the representative of "global youth."
BTS started the "#Lovemyself" campaign that emphasizes that "true love begins from loving yourself" and also signed a formal partnership with UNICEF to support its "#ENDviolence" initiative in 2017, a global children and youth violence eradication campaign of UNICEF.
Yong Park parky@donga.com