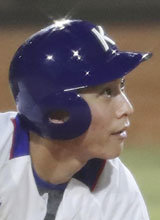 Jakarta, Indonesia, where the 18th Asian Games are being held, is swarm with Japanese reporters. There is heated media coverage by Japanese reporters as the next Olympics will be held in Tokyo, Japan in 2020. If you go to watch swimming and track and field events, you might wonder if you are in Japan or Indonesia.
But one event seems to be an exception. That is baseball. Baseball, in fact, is considered a national sport in Japan. But the Japanese national baseball team, which is composed of only amateur baseball players, is not attracting Japanese fans' attention. Only three to four reporters attended the preliminary matches of the Japanese national baseball team.
It appears the Japanese national team does not aim to get good result, either. Originally, the team's ace pitcher was Shunpei Yoshikawa (Panasonic), who is capable of throwing a fastball at 150km/h. But he was eliminated from the national team when it was found out that he had signed with Major League baseball team Arizona right before the Asian Games. Japan did not select a pitcher to replace him. Japan has 23 players in the national team while South Korea and Taiwan have 24 players. Japan only has eight pitchers.
This is good news for South Korea, who will face Japan in the first game of Super Round at 2 p.m. Thursday. The Korean national baseball team, who lost to Taiwan by 1-2, can advance to the finals if it beats Japan by more than two points and China on Friday.
Japanese amateur baseball teams are in a different league from Korean amateur teams. They are usually run by large conglomerates and many of them are as good as professionals that they are considered semi-professionals. Every year, many amateur players join professional baseball teams through draft. Famous Japanese baseball players, who were in amateur baseball teams, include Japanese baseball hero Hideo Nomo and Junichi reliever Hitoki Iwase. South Korean pitcher Oh Seung-hwan gave up a three-run homer to Japanese amateur player Hisayoshi Chono in the 2006 Asian Games. Chono joined Yomiuri a few years later.
Fortunately, Korean batters are getting better every game. Lee Jung-hu, South Korea's first hitter, has made seven hits in 12 at bat (batting avg. of 0.573), including 2 homers in a match against Hong Kong and Hwang Jae-kyun has a batting average of 0.364, including two homers. South Korea's cleanup Park Byung-ho hit a home run in the ninth inning in the match against Hong Kong.
Heon-Jae Lee uni@donga.com