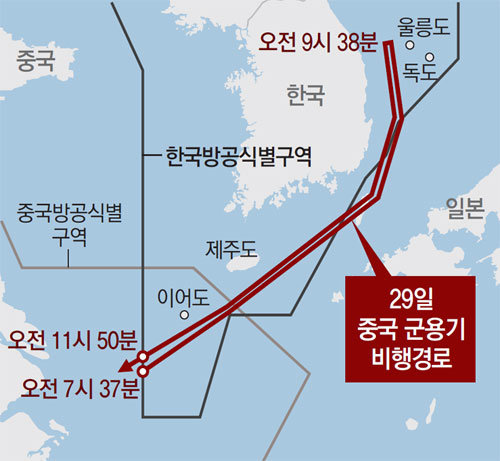 A Chinese military aircraft entered South Korea's Air Defense Identification Zone (KADIZ) without notice on Wednesday, prompting a South Korean fighter jet to make a sortie in response. It has been a month since a Chinese warplane entered the KADIZ on July 27 and marks a fifth unauthorized entry this year.
At around 7:37 a.m., a Chinese military jet, presumably a Y-9 reconnaissance aircraft, first entered the KADIZ from southwest of Ieo Island and flied along the Straits of Korea toward the East Sea, entering and exiting it on and off, according to military authorities. The Chinese military jet moved northwards to Pohang, flying at an altitude of 74 kilometers, and kept northwards to Gangneung, climbing up to an altitude of 96 kilometers. The jet then turned southwards and completely exited the KADIZ at around 11:50 a.m.
The military said it scrambled 10 aircrafts, including F-15K fighter jets, to track and monitor it and sent a warning message. In addition, it warned of any actions that could raise tensions and cause accidental conflicts via a South Korea-China hot line. But the Chinese jet ignored the warning and stayed inside the KADIZ for four hours.
China reportedly said the sortie was an ordinary military operation in international airspace that does not violate international laws. The KADIZ around the Ieo Island overlaps with air defense identification zone (ADIZ) of Japan and China.
The South Korean Ministry of Defense called in the Chinese defense attaché at the Chinese embassy in Seoul earlier in last month right after a Chinese warplane made an unauthorized entry into the KADIZ to lodge a complaint and urged China to prevent similar incident from happening again. It appears Chinese military is constantly entering the KADIZ in order to reconnoiter the Korean Peninsula and show off the ability of its reconnaissance aircraft to fly long distance.
Sang-Ho Yun ysh1005@donga.com