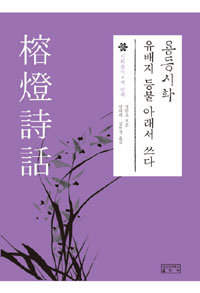 Korean poetics suffered the most severe period in the 19th century, the end of the Joseon Dynasty. In the midst of foreign forces' invasion into the dynasty, traditional values and modern culture collided with each other fiercely, leading to the collapse of traditions. Back then, there were few historical records showing the writers and their pieces in the times of King Gojong. That is why Yongdeungsihwa, a collection of poetry, has great historical significance.
The book was written in 1906 by Jeong Man-jo (1858-1936), one of the renowned poets and officials. It was when he was exiled to Jindo County in South Jeolla Province for getting involved in the killing of Joseon Empress Myeongseong. As the title Yongdeungsihwa represents, the poems were written under the kerosene lamp beside the window with a view of the banyan tree. Last October, the collection was translated into modern Korean by Professor Ahn Dae-hoe at Sungkyunkwan University and researcher Kim Bo-sung of Academy of East Asia Studies, Sungkyunkwan University, after they found Yongdeungsihwa, which was featured in 1938 in the culture section of Maeil Sinbo published by the Japanese Government General of Korea.
Jeong Man-jo defied the general consensus that Joseon poetics fizzled by the end of the 18th century. He said that Korean poetics was developed and matured further in different forms than the previous poetic styles by the four members of Sino-Korean poetry, consisting of Lee Deok-mu, Park Je-ga, Yoo Deuk-gong and Lee Seo-gu.
The collection also includes the works by Namsa, a group of poets, who centered around Hoehyeonbang, located in the north of Mt. Namsan in Seoul. The artistic activities of the figures were not learned by reading relevant books, but rather by having Jeong's first-hand experience.
Afterward, Jeong Man-jo took pro-Japanese steps, serving as an instructor at Keijo Imperial University and a member of the Korean History Compilation Committee under Japanese rule. "Pro-Japanese activities have to be assessed squarely at its own," Ahn said. "It is proper, however, to utilize Yongdeungsihwa as a telling reference that allows us to have a better understanding of poets, intelligent leaders and politicians at the end of the Joseon Dynasty.
Kyu-Jin Shin newjin@donga.com