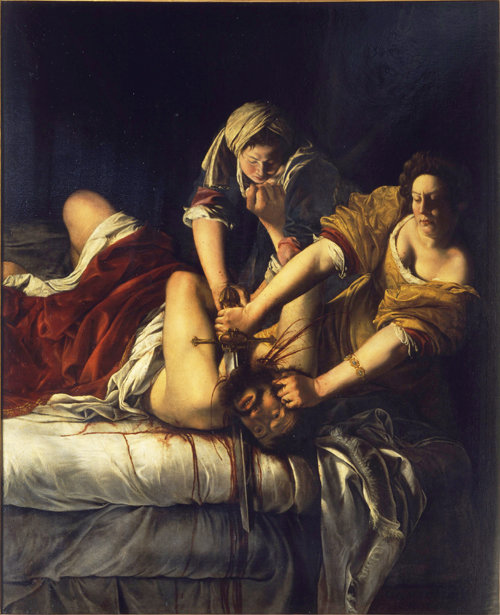 The National Gallery in London in June massively promoted that it purchased an artwork by a female artist. The newly purchased painting is the 21st artwork by a female artist out of 2,300 works owned by the gallery. The painting that cost the gallery 4.6 billion won is a self-portrait by Artemisia Gentileschi, one of the best female artists in the 17th century. Gentileschi is famous for drawing a self-portrait, being inspired by women in the stories from myths or the Bible. Among them, what she drew the most was Judith in the Bible. Why did she favor Judith?
It was difficult for women to succeed in the art of painting in the 17th century. Thanks to her artist father, Gentileschi's talent was appreciated from early childhood and she could become an artist. But at the age of 19, she was raped by her teacher and her father's colleague Agostino Tassi. The case was brought to the court. But Gentileschi had to take a humiliating gynecological examination and was tortured just to prove that her argument was true. Tassi was eventually given the guilty verdict and exiled from Rome. But he had no problem painting as usual. Deeply resented by this, Gentileschi decided to take revenge on him in her own way by drawing the story of Judith in the Bible. She painted her face instead of Judith's and drew Tassi's face in the place of the invading general's face. Judith is an Israeli heroin, who saved her people by beheading the enemy's general Holofernes. Gentileschi first started to draw the story of Judith during the trial process and drew the same painting repeatedly in various versions afterwards. By doing so, she kept telling the world her pain and Tassi's crime consistently.
The cross-shaped sword Judith is holding in the painting implies that the beheading is not personal revenge but punishment by God. After 400 years, Tassi is still famous because of Gentileschi, not as an artist but as a rapist. It was a perfect revenge by artist Gentileschi, using a paintbrush instead of a sword.