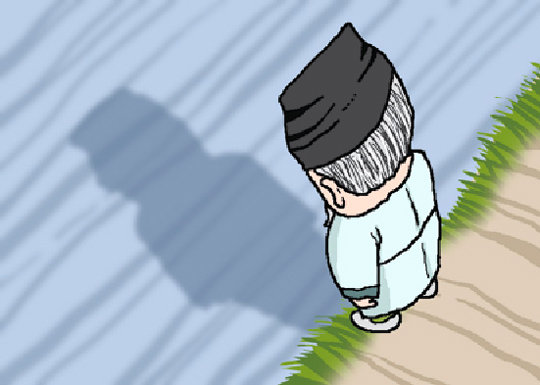 Narcissus in Greek mythology takes his own life because he gets into despair for failing to return his love after falling in love with his own shadow reflected on water. For Sigmund Freud, the founding father of psychoanalysis, the myth was a key to solving the secret of human psychology. As Freud put it, every one of us might possess self-attachment or narcissism to some extent.
There was a Korean poet who saw someone else in the shadow mirrored on water. It was Park Ji-won, whose penname is Yeonam, in the Joseon Dynasty. His poem instantly resolves Narcissus' self-attachment. The last two lines of his four-line poem entitled "Remembering elder brother at Yeonam" is an absolutely beautiful and wonderful song. "If I come to miss my brother, where would I see him/ I will see myself wearing bandana and robe, reflected on water." He says that he will miss his own elder brother by viewing his own shadow mirrored on water.
Yeonam's brother, who was seven years older than him, was like father to Yeonam for 20 years. The poet used to say, "Whenever I missed my late father / I saw my elder brother," because his brother resembled the father in many ways including facial look and mustache. But as his brother died when Yeonam was 51, he could no longer see the image of his father. Facing the reality of such pain, he surprisingly discovered a substitute: his own image reflected on water. He saw his brother's image on it. He used to wear bandana and robe as his brother did. His brother was seen from Yeonam's own shadow and his father was seen from his brother. Can there be a song of yearning and mourning more beautiful than this? It was for this reason that Confucian scholar Lee Deok-moo during the late Joseon Dynasty was deeply touched upon reading this poem.
The shadow of Narcissus in Greek mythology was self-destructive narcissism, but the shadow of Yeonam mirrored on water was a shadow of altruistic love. How on earth can one verify the existence of others through his or her own shadow mirrored on water? The myth of Narcissus instantly comes to lose shine.