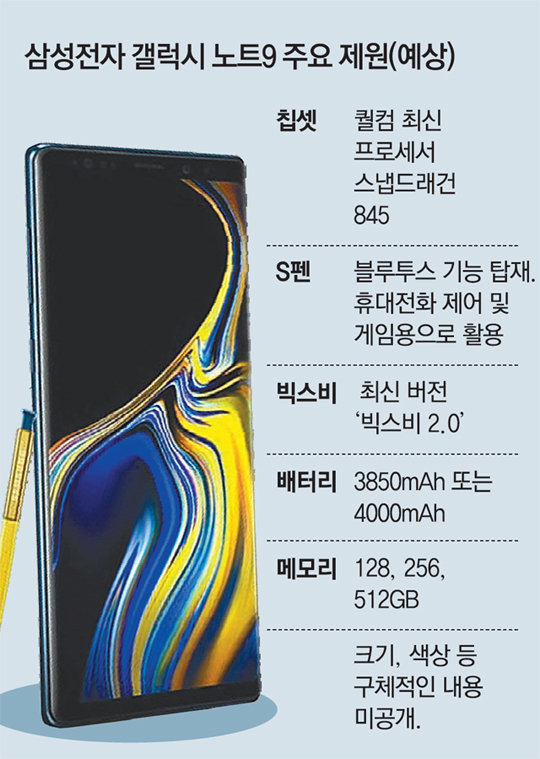 The global smartphone market is expected to face more intensified competition in the second half of the year with smartphone makers coming up with their latest products.
Samsung Electronics will take the wrap off its "Galaxy Note 9" at the "Unpacked event" to be held in New York City on Thursday (local time) while Apple and Huawei are set to unveil their strategic premium smartphones next month. Following the V35 ThinQ launched July 6, LG Electronics has introduced a mid-range model "Q8" to expand its product lineup. Amid Chinese smartphone manufacturers' rapid rise in the market, South Korea's tech giants have employed various strategies such as an early release and the diversification of a lineup.
Samsung will be the first to unveil its latest product for the second half. The brand new Galaxy Note 9 will boast a high speed, a larger battery, and a handy S Pen while equipped with Qualcomm's flagship application processor (AP) Snapdragon 845. Some speculate that it may have a 4,000mAh battery, larger than that of the Galaxy Note 8 (3,300mAh). The Note series' signature "S Pen" is also expected to function as a separate Bluetooth device, used for music and cameral controls as well as playing games.
Meanwhile, LG Electronics focused on strengthening the performance of its mid-range series to compete with Chinese smartphone producers, which are dominating the mid and low-range smartphone market. The tech giant will launch Friday its mid-range smartphone "Q8" priced at 539,000 Korean won that belongs to the Q series first introduced last year to provide consumers with more options. The Q8 will also come with a built-in stylus pen, which used to be included only in "LG Stylus" models with a price tag of 300,000 to 400,000 won. The stylus pen will work with tools such as "Screen off Memo" and "Pop Memo" that allow users to write a note in any parts of the screen and even when the screen is off.
Jae-Hee Kim jetti@donga.com