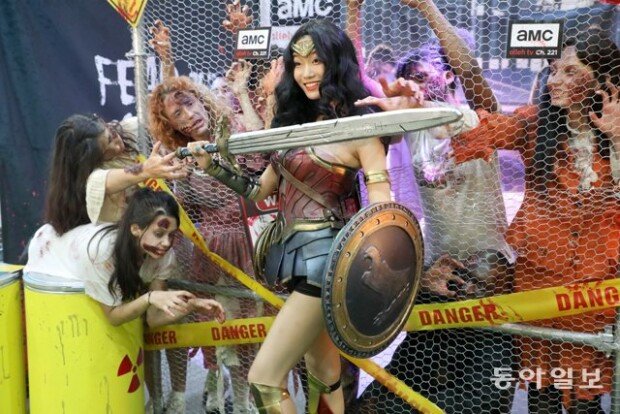 COEX Hall A in southern Seoul was crowded with a great mass of visitors over the weekend on the occasion of Comic Con Seoul 2018. This comprehensive cultural festival encompasses a wide range of areas including comics, dramas, games, animated films, and cosplay. The name "Comic Con" is a shortened form of "Comic Convention."
On the second annual event, 301 booths were set up by a total of 104 domestic and overseas companies such as Walt Disney, Marvel, Blizzard, and Nexon. More than 50,000 people came to enjoy the exhibition.
Hollywood stars Michael Rooker and Ezra Miller caught attention among the visitors. Michael Rooker, 63, who acts Yondu in the film Guardians of the Galaxy, told the press on Friday that he wished his superhero friends had come to Korea for this year's event. Artists from all over the globe gave him inspiration during Comic Con Seoul 2018, he said in an interview.
Booths dedicated to Marvel Studio turned out to be a magnet for visitors, just as Avengers: Infinity War (2018) made a mega hit by drawing around 11 million Korean audiences. History Wall, a long-length exhibition panel, showed the last 10 years of Marvel movies, from "Iron Man" (2008) to the recent release "Ant-Man and The Wasp." Visitors also found it fascinating to try new games featuring Marvel characters.
The Korea Cosplay Championship was held on Sunday afternoon, where the final 15 cosplayers walked the show in their eye-catching costumes. Korean and overseas experts on costume playing and special makeup effects were on the judging panel, including special makeup artist Hwang Hyo-gyun for the film Along with The Gods. Alan Clark, 41, an American participant in the costume of Deadpool, one of the Marvel superheroes, gave a thumbs-up to Korean costume players, commending that they are second to none in the world.
Reed Exhibitions (RX), the leading event organizer, opens Comic Con every year in 25 cities across the world. Busan will be another venue for next year's exhibition in February, along with Seoul in August. RX Korea President Son Ju-beom said that New York City is swept with a festively exciting vibe during one-week Comic Con. He expected that Comic Con Seoul would grow into one of the world's best events thanks to Korean artists boasting off highly sophisticated levels of performance.
easy@donga.com