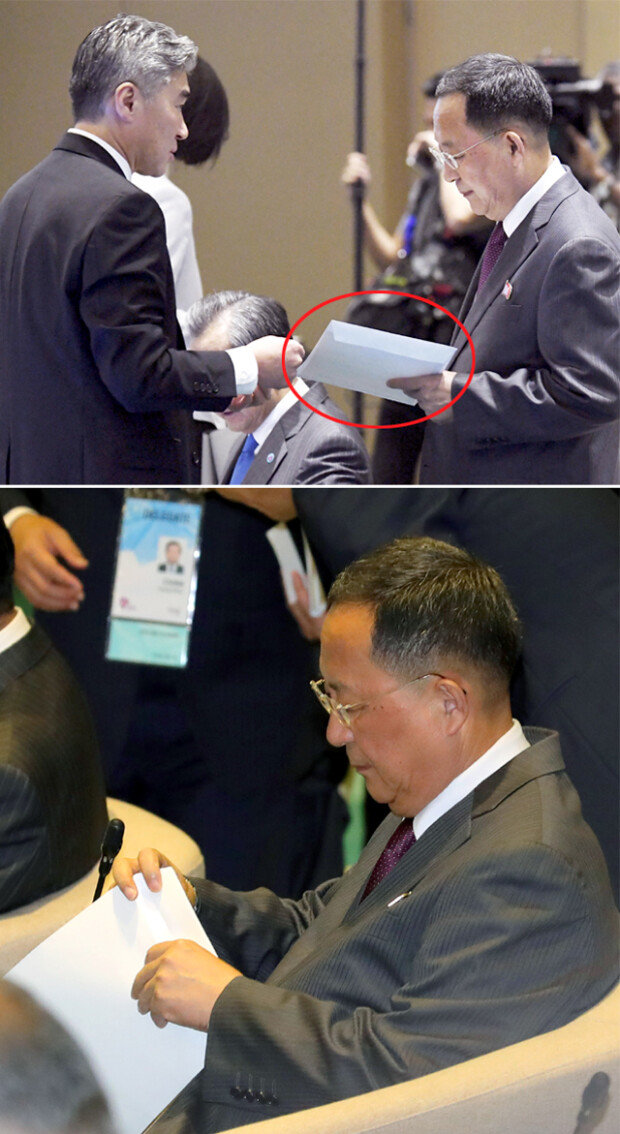 U.S. Secretary of State Mike Pompeo, who had engaged in intense war of nerves for denuclearization roadmap, had a brief encounter with North Korean foreign minister Ri Yong Ho on Saturday.
After a commemorative photo session, U.S. Ambassador to the Philippines Sung Kim handed over President Donald Trump's letter to Ri. It is a reply to a letter that North Korean leader Kim Jong Un sent to President Trump last Wednesday on the occasion of return of remains of U.S. troops who went missing during the Korean War. As audience members were seen paying attention to a commemorative photo session for female foreign ministers, Ambassador Kim approached Ri and handed over a gray envelope unsealed, while having a brief chat.
The way the letter was conveyed to the North's top diplomat, which was rather unique, also drew attention. Customarily a president's personal letter is conveyed by a presidential special envoy via a briefcase with security lock or in an envelope. Analysts say that the fact President Trump's letter was handed over unsealed at the venue of an official public event may demonstrate Washington's situation wherein it had no choice but to hurriedly send President Trump's letter to Pyongyang.
The ministers of the two countries thus at least openly displayed friendly mood at a multilateral diplomatic stage that drew attention from the international community. As such, some watchers expect Pyongyang and Washington will continue to communicate with each other behind the scene in their efforts to find a breakthrough for follow-up talks for the North's denuclearization, which remain in limbo.
Na-Ri Shin journari@donga.com