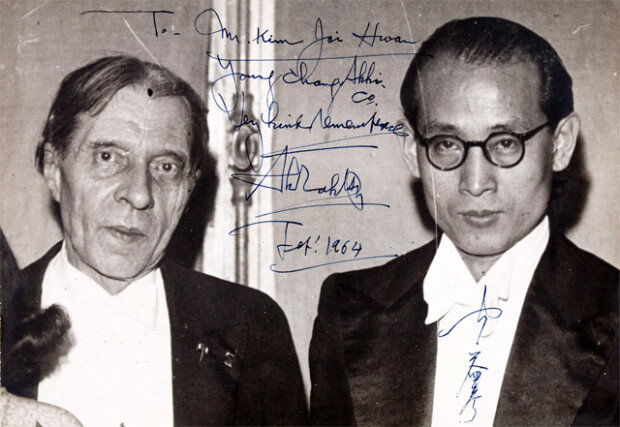 The writing of Ahn Ik-tae, the composer of the Korean national anthem, is very fast, irregular, and powerful. This is indicative of the writer's quick wit and robust energy, but it also points to his rashness and a sense of frustration. The changing rhythms and the size of letters reflect a fluctuation of self-esteem. The changes in the basic lines attest to his sensitive and fickle personality. Strokes are highly intrusive, and a closer look at his "H" will tell you that the lines are not kept within the boundary, meaning his zealousness did not have room for consideration of others.
Such a writing style can be found in some of the greatest figures in history. Beethoven, the Patron Saint of Music, was known for his terrible handwriting. The real title of his famous sonata "For Elise" was originally "For Therese," after a girl named Therese Malfatti that he loved dearly, but his writing was so illegible that the publication worker made a mistake of changing the titles. Tolstoy and da Vinci are also known for their cryptic handwriting. Tolstoy's writings were so hard to understand that Sophia, his wife and a friend, as well as a personal secretary, would rewrite them all over again. But their bad writing is not necessarily bad. Nevertheless, it is a good writing given that it can be associated with a quick sense, a unique personality, great confidence, and effervescent energy.
The horizontal line of Ahn Ik-tae's "t" is very long. For graphologists, a "t" is a subject of close observation as it provides a wealth of clues. The horizontal line of a "t" reflects a will, self-trust, energy, passion, decisiveness, courage, stubbornness, and ambition. The shape of his "y" suggests that he was aggressive, stubborn, and often lost control of his own behaviors. The round contours of his "m" or "n" attest to his creativity and perceptiveness, as well as his knack for logical assembly.