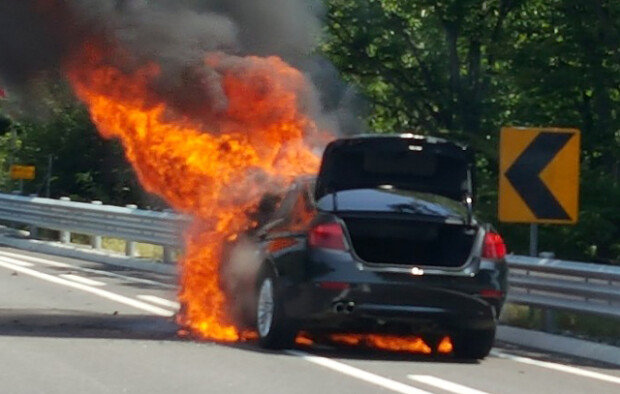 Five days in a row, BMW cars are catching fire in South Korea. The Ministry of Land, Infrastructure and Transport is launching an investigation into whether BMW Korea had known about the defects and tried to conceal or reduce the scale of the problem.
At 11:47 a.m. on Thursday, a BMW 520d sedan owned by a 29-year-old female driver surnamed Choi, caught fire 104 kilometers to the Gangneung direction on Yeongdong Expressway in Wonju, Gangwon Province. The fire was put out in 20 minutes.
The driver told police that she had pulled over the car onto the shoulder as the gas pedal was not working, and fire began to rage up from the front of the vehicle. Choi and her fellow passenger evacuated, so there was no casualty. The police and fire authorities are probing into the exact cause of the accident.
In 2018 alone, as many as 30 or so BMW cars have caught fire. The fire is affecting various models. The primary culprit is a diesel model called 520d with 24 of them having been affected, but six gasoline models have also caught fire. The flagship 742i model, which was completely burned down in Asan, South Chungcheong Province on Wednesday, and the red Mini Cooper, which caught fire in the Dosan intersection, Gangnam District on July 4, are also gasoline cars. Mini is a British brand that BMW acquired, and the latest events are stoking public fear that their cars might catch fire anytime soon.
The transport ministry announced that it would launch an inspection into whether BMW had known about the defects and tried to conceal or reduce the problem before taking such a sluggish recall measure. An ministry official said if circumstantial evidence indicating concealment or reduction of the issue is secured, they might file a request with an investigation agency.
Sung-Hwi Kang yolo@donga.com · In-Mo Lee imlee@donga.com