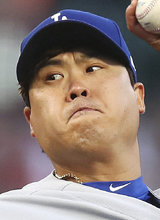 Los Angeles Dodgers' pitcher Ryu Hyun-jin is likely to return to the mound. In an interview with the local media, Dodgers' manager Dave Roberts said Ryu would return to start Friday's game against the Lake Elsinore as a member of Rancho Cucamonga, a farm team of the Los Angeles Dodgers. It has been three months since he last played in a game on May 3.
Since being kept out due to a severe groin injury, Ryu has focused on recovering, practicing bullpen pitching and throwing two simulated games. When he was ready to throw three innings, the manager told him he needed to be able to throw more than four innings. For Friday's game, Ryu is expected to cover at least three innings.
Throwing in an actual game is considered the last stage in rehabilitation. If Ryu can prove he is fully recovered, he might be included in the expanded roster in September. After missing the 2015-2016 season due to shoulder injury, he made a great comeback this season, recording three wins and no loss in six games with a 2.12 ERA.
It remains to be seen, however, if Ryu makes the roster. Dodgers' starting pitcher lineup is almost full with starters such as Clayton Kershaw, Alex Wood, and Kenta Maeda. While Ryu was in recovery, it was speculated that Ryu might be traded or sent to the bullpen.
Bae-Jung Kim wanted@donga.com