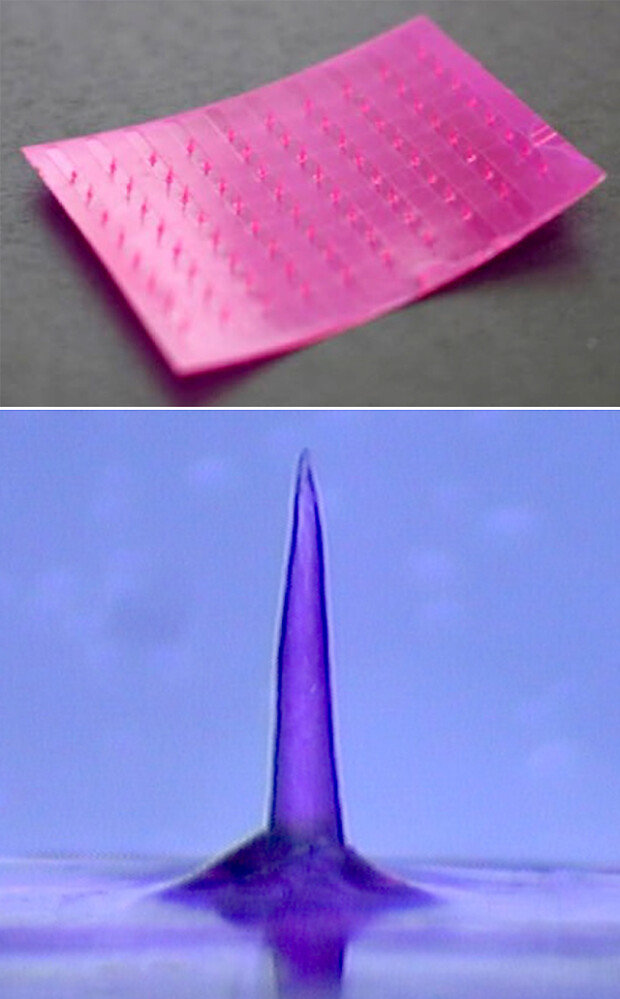 In the near future, administering drugs into the body will be made possible simply by attaching a palm-sized micro patch to the skin. It is expected to greatly reduce the pains of infants and the patients, who need to have a shot regularly.
A research team led by Jeong Joon-ho, chief researcher at the Korea Institute of Machinery & Materials (KIMM), announced on Tuesday that they are ready to commercialize a micro needle patch made with DNA proteins that are harmless to humans. The KIMM founded a research firm ADMBioscience on July 17 and built facilities that can produce 2.4 million patches a year on the KIMM site in Daejeon.
The "DNA needle patch" developed by the team is made with proteins extracted from salmon sperms. Although the patch has fine protrusions, they are not as hard as the needle and are less than hundreds of 1 μm in length, inducing no pain at all. When attached to the skin, the fine protrusions dissolve, delivering drugs into the body.
Similar needle patches have been developed abroad, but they are still in their clinical phase as they include chemical substances, whose safety has not been proved yet. "Salmon sperm DNA, which is effective in cell regeneration, is a harmless ingredient already being used in cosmetics and medicines. The safety of the patch has already been proven," said Jeong. "The patch could be on sale within five years after undergoing clinical tests for the efficacy of the patch by pharmaceutical companies."
kyungeun@donga.com