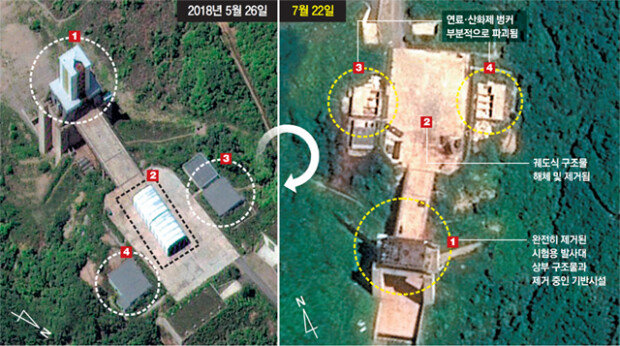 North Korea is reportedly dismantling its satellite launch facility at Sohae, which is one of its main missile facilities in which it conducted Intercontinental Ballistic Missile (ICBM) tests and launches. Pyongyang is carrying out its belated promise made at the June 12 summit in Singapore to dismantle this facility. This can be interpreted as an attempt to put pressure on the United States while sending out a message that the North is willing to continue the talks. Simply put, Pyongyang is demanding Washington to suggest a concrete way to maintain the North Korean regime.
○ North Korea unveils its bargaining chip quietly
Images of the missile launch site in Dongchang-ri, North Pyongan taken on Friday show a dismantled rail-mounted facility that puts missiles together before launching. An underground transit facility, which had bren hidden before, was also revealed.
Satellite photographs taken on Sunday showed more including a corner of the building completely dismantled and demolished structures on the floor. A shade that used to cover the engine test site was gone. 38 North reported the fuel and oxidizer bunker, main building and launch tower were not torn down. Researcher Joseph Bermudez who wrote a report said, "The dismantling seems to have started around two weeks ago."
South Korean and American intelligence authorities are known to have captured the partial dismantling of the tower crane that stands on the 67-meter high launch pad at the launch site. They are tracking and analyzing it through satellite photograph interpretation.
The satellite launch site is the place where Pyongyang launched Kwangmyongsong-4 in February 2016, and has been used as a launch and test facility for North Korea's missiles since 2012. It has been marked out as a missile engine test site, which Kim Jong Un promised Donald Trump to dismantle.
Many projected that North Korea would use its missile engine test site as a leverage for its negotiation in deadlocks in the U.S.-North Korea talks. But North Korea quietly started dismantling the test site unlike the public dismantling of Pungye-ri nuclear test site for which it invited foreign reporters in May. "The North's such events are not enough to be a bargaining chip in the current situation where Washington is demanding Pyongyang to take concrete steps to denuclearize such as reporting and verifying nuclear facilities," said Nam Sung-wook, a political science professor at Korea University. "It is an attempt to bait the hook in future negotiations and show the United States that the North is delivering its promise based on its internal roadmap."
○ Would this revive talks with the U.S.?
South Korean presidential office Cheong Wa Dae held high hopes that North Korea's dismantling Dongchang-ri test site would "positively affect denuclearization." "It is a better sign than nothing, and I believe (the North) is moving step by step toward denuclearization," said Nam Gean-pyo, senior director at the presidential National Security Office. "We need to analyze whether it is trying to adjust timing by dismantling the site without making it a public event." That means this could be North Korea's strategy to regain momentum in talks with the U.S., after delaying denuclearization asking for a guarantee of the regime's continuity.
Pyongyang's move is also in parallel with the repatriation of the remains of U.S. soldiers which is likely to start on Friday, the 65th anniversary of the ceasefire agreement. Some say that the North is trying to make tangible achievements such as a declaration of the end of war as Trump has a forthcoming mid-term election in November.
National Security Advisor Chung Eui-yong who recently visited the U.S. is reported to have known North Korea's dismantling of the engine test site in advance. Chung and U.S. National Security Advisor John Bolton seem to have assessed North Korea's test site dismantling and focused the discussion on ways to bring forward compensation for denuclearization such as declaring the end of war as demanded by Pyongyang.
lightee@donga.com · weappon@donga.com