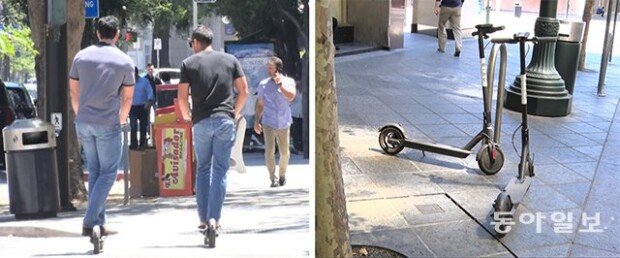 Donald Little working in San José, California shows an electric scooter sharing application to this reporter. An in-app map indicates hundreds of e-scooters that are parked nearby. "Shared electric scooters are crammed like sardines in front of almost every large building you can see in the city," he said. "It is hard to resist using the service with an aggressively large number of electric scooters just a few taps away."
It is a user-friendly rental service. All you have to do is to find any nearby scooter on the application and scan a QR code on the hand bar. It costs only one dollar per rental with 15 cents added up every 15 minutes. The electric vehicle is equipped with a battery that allows one and a half hours of driving at around 20 kilometers. It is simple to return it: you just leave it anywhere you find convenient.
People can register as a recharger on this e-scooter sharing company's application, collect scooters that have been returned nearby and put them back where they were parked. A recharge per unit earns people five to seven dollars, which is attractive to those who aspire a side job.
However, it is concerned that some scooters are left derelict or broken. It is not difficult to see electronic scooters laying down in the middle of the sidewalk in San José. Other scooters are not well-maintained with scratches on the surface as they are left after they have fell or bumped.
Added to this, e-scooters pose a safety threat to the public. The reporter spent around 30 minutes observing a flow of electric scooters passing Market Street, finding that no one wore a safety helmet. Some drivers ran the red light while others driving cross the center line numerous times.
In response to the issue of shared electric scooters, San Francisco authorities last month imposed all-out bans on their use downtown as they had been at the center of safety issues. They have granted permission to five out of 12 e-scooter sharing companies operating in the city while the rest still under deliberation.
rocku@donga.com