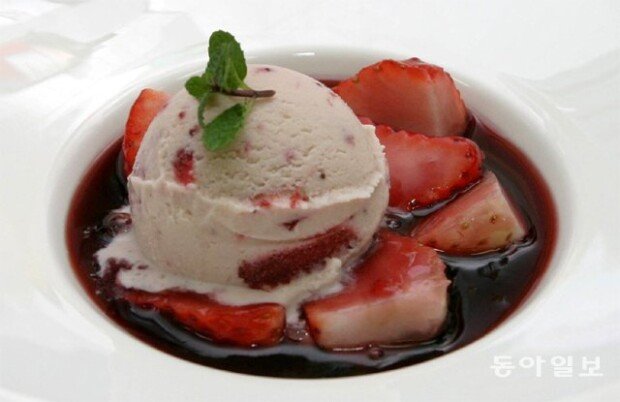 Any scorching hot vacation spot in England is always dotted with ice cream vans. Ice cream lovers should visit southern parts of the country - Cornwall, Devon, Kent and Sussex, creating a so-called ice cream belt. In fact, the region is known to produce fresh milk in local ranches and make incredibly soft and dense ice cream with a traditional recipe book. Ice cream was widely enjoyed as a cure for homesick settlers across the countries ruled by the British Empire, such as the United States, Canada, Australia, and New Zealand. Also, Jamaica is a country in a long relationship with ice cream. In the past, it served as a sugar supplier to the British Empire.
New Zealand is second to none in terms of ice cream consumption. Here you can savor rich and healthy ice cream. It is made from milk freshly produced by cows in a green pasture and enriched with flavors of seasonal fruit such as kiwis, strawberries, apricots and blueberries. Everywhere British immigrants left their footprints and settled down, ice cream parlors came up with no exception. Examples abound: Gisborne, a city in northeastern New Zealand where British captain and explorer James Cook came first; and Napier, a beautiful port city with Art Déco-style buildings. The title of the world's No. 3 ice cream consumer goes to Australia, one of large sugar-producers.
Americans enjoy ice cream and apple pies as their favorite dessert choices. Interestingly, Thomas Jefferson and George Washington were big fans of ice cream. By the mid-19th century, the United States sought to innovate ice cream production technologies and globalize this sweetened frozen food, thinking of a much wider and larger consumption of a tastier ice cream as a stepping stone to advance. Added to this, the country promoted ice cream as being part of a new dessert culture to replace alcohol with the aim of preventing against drunk driving. The culture of ice cream consumption spread out across the globe partly thanks to Italian immigrants who sold gelato on the street that represented a real Italian flavor.
Italy is one of the traditionally famous ice cream makers. Ice cream has been innovated variously centered around Naples, home to sorbetto, and Le Procope, a Paris-based café established by a Sicilian chef. Furthermore, Bologna even established an ice cream-dedicated college to impart ice cream recipes as gelato began taking off among women who aspired to have a slim build, thanks to its low-fat content.
Ice cream is consumed in large amounts in Finland, Sweden and Demark where people spend a long time with their family and their children feel happy and joyful. In Iceland, it is popular among couples to travel along the coastline driveway, enjoying ice cream. Indeed, ice cream serves as an antidepressant to reduce insomnia and suicidal urge, making white night suffers in Northern Europe stay happier.
As Swedish actress Ingrid Bergman once seriously fell deep in love with cherry ice cream, she grew fat so rapidly that even her manager was increasingly concerned for her weight. Picasso left a drawing named "Man with a Straw Hat and an Ice-cream" while Andy Warhol depicted ice cream as part of his drawing. French philosopher Voltaire, who was fatally lured to ice cream, once confessed over his crazy love with ice cream – Ice cream is exquisite. What a pity it isn't illegal.
Hyo-Lim Son aryssong@donga.com