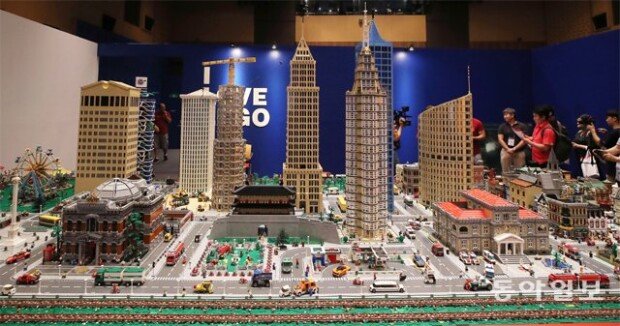 A magical world created by Lego, the world's favorite toy brand loved by children and adults alike, is coming to Seoul. The first exhibition of the world tour "I love LEGO," co-hosted by The Dong-A Ilbo and Jaha, will be held at the Cultural Hall of the Lotte Department Store at Gimpo Airport, starting from July 20. The event is the first exhibition that has been permitted by the Denmark Lego Group to use the LEGO title.
The exhibition is divided into six sections and uses a total of 1.016 million pieces. It features various themes ranging from ancient and medieval Rome, modern cities and outer space. There are even works that have taken several years to build, which are so grand that they are breathtaking.
Information of the exhibition makes it more interesting. Though LEGO comes from Denmark, the sub-title of the exhibition is "From Italy to Seoul," because most of the works in the exhibition have been created by Romabrick, an Italian LEGO user community. Romabrick, one of the oldest LEGO user communities in Europe, is mostly from Rome and creates LEGO pieces with the certification of LEGO. "Some of our members come from engineering and architecture backgrounds, which adds to reality," said Romabrick with pride.
The exhibition first opened in Italy at the end of 2016 and created a huge sensation. Some 500,000 people across Europe visited the exhibition. "We decided to take the tour global thanks to the enthusiastic response of the viewers, and we are happy to visit Seoul as the first leg of the tour," said a participant with the exhibition. "Many adult viewers, as many as children and youth viewers, came to the exhibition and praised the high quality of the work."
Yang-Hwan Jung ray@donga.com