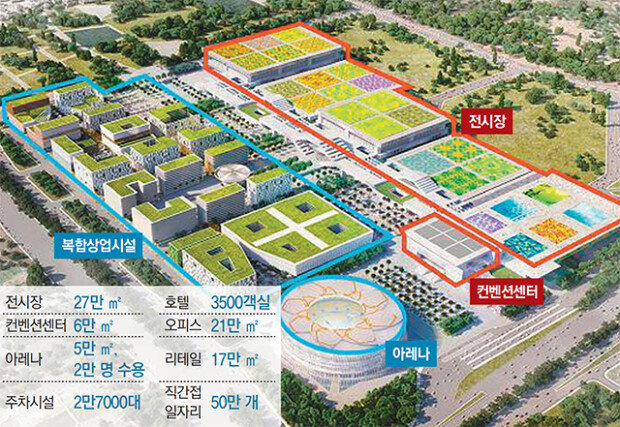 South Korea's eSANG Networks and Korea International Exhibition Center (KINTEX) have announced that they will take charge of the management of the largest exhibition center in India. This is the first time that Korean businesses bring their exhibition knowhow overseas.
According to eSANG Networks Monday, a consortium formed together with KINTEX has been designated as the operation manager of the India International Convention and Expo Center (IICC), which is planned to be established in Dwarka, New Delhi. The Korean companies will oversee the general management of the center for 20 years starting from 2020. To this end, eSANG Networks and KINTEX recently established a joint venture company "Kintex Convention Management" in India. "South Korea's consortium has been selected as the operation manager, beating the world's leading businesses from the so-called "advanced countries in exhibition" such as France, Singapore, and Hong Kong that have lots of experience in this area," said an eSANG Networks source.
The IICC is expected to be 300,000 square meters wide, three times the size of the KINTEX exhibition hall, the largest center in South Korea. The center will be the fourth largest in the world, following that of China, Singapore, and Japan. The Indian government plans to develop it into a comprehensive complex of exhibition and convention halls with hotels, shopping and office facilities. Under the current timetable, the first phase of construction will be completed by 2019 so that the center can open in 2020. The second phase is scheduled to begin in 2026.
Located 10 kilometers away from the Indira Gandhi International Airport, the IICC will make Gurugram, a city with many foreign businesses and shopping malls, more accessible as people will be able to take subways, railroads, and highways that connect and go through the complex. With the Delhi-Mumbai Industrial Corridor (DMIC) project currently underway that connects dedicated freight corridors between the two cities, demands are apparently rising for the establishment of advanced IT valleys, various industrial clusters as well as diplomatic missions, embassies, and golf clubs around the IICC.
"As the world's seventh largest economy, India is rapidly rising as an economic hub in Asia," said the source at eSANG Networks. "The Delhi-Mumbai Industrial Corridor project currently pushed by the Indian government is expected to create more demands for exhibitions and conventions in and around the region."
salthj@donga.com