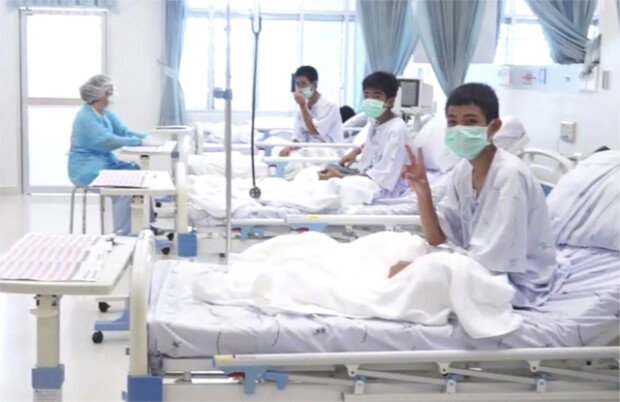 The news of the cave rescue of the Thai youth soccer team and coach has captured the world's attention. Leaders from around the world, including U.S. President Donald Trump, are sending messages of congratulations to the team, who are receiving invitations as well. Hollywood movie producers are also moving quickly to plot a movie about the boys. The boys, however, are oblivious to this attention, as they are hospitalized and separated from their families, who are allowed to see them only through a glass window.
The 13 boys are separately hospitalized in the Chiang Rai Prachanuk hospital. The eight boys who were rescued in the first two days spoke to their families through a phone call Tuesday afternoon. The medical team said that the boys "were grateful and happy to be rescued and wanted to return home quickly."
The physical conditions of the four boys who were rescued on the first day recovered considerably, so that they were able to meet their parents through a glass window of the wards. Though the boys were worn out from living in the cave, they are happily recovering and enjoying staying at the hospital.
"The children are psychologically healthy as well. They can speak and appear joyful. They even joked with Prime Minister Prayut Chan-o-cha, who visited the hospital on Monday evening," said the medical team. "They had lost weight of 1-2 kilograms, but they were able to walk on their own."
The boy who replied in English to the British rescue team on July 2 by answering, "My health is okay. What day is it today?" was found to be a refugee. Adul Sam-on, aged 14, previously lived in the self-governing Wa state in Myanmar and came to Thailand on his own when he was seven years old. He had lived in a church and was the only one among the 13 boys who spoke English.
Sung-Ha Joo zsh75@donga.com