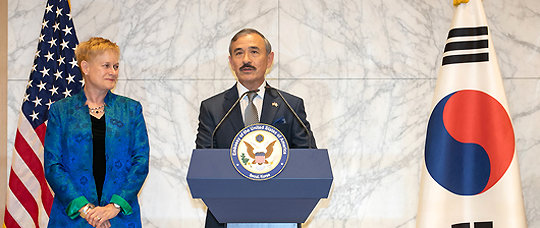 Retired Adm. Harry Harris has started his term as U.S. Ambassador to South Korea. He is the first Japanese American to assume the job. Upon arrival at Incheon International Airport Saturday, Harris told reporters that he hoped to work together with the government and people of the Republic of Korea to further cement the South Korea-U.S. alliance.
Having retired as commander of the Indo-Pacific Command, Harris is considered the most high-profile figure among those who have assumed the post of U.S. ambassador to South Korea. "Over the past 65 years, the U.S.-ROK (Republic of Korea) alliance has served as a pillar of strength and stability throughout the Indo-Pacific region and beyond," Ambassador Harris said. "America could not ask for a better friend, partner and ally than the ROK."
On the issue of the Special Measures Agreement (SMA) talks on defense cost sharing, which are currently underway between the two allies, however, Ambassador Harris said he did not want to prematurely comment on or openly discuss the issue, adding that it would better to hold discussions freely once the outcomes of closed discussions are announced. Asked why he has grown a mustache unlike the time when he served as the commander of the Indo-Pacific Command, he said he thought it would look fresh to grow mustache as he changed from a soldier to a diplomat. With his inauguration, the U.S. Ambassador to South Korea, which has remained vacant for nearly 18 months since the inauguration of the Donald Trump administration, has been finally filled.
lightee@donga.com