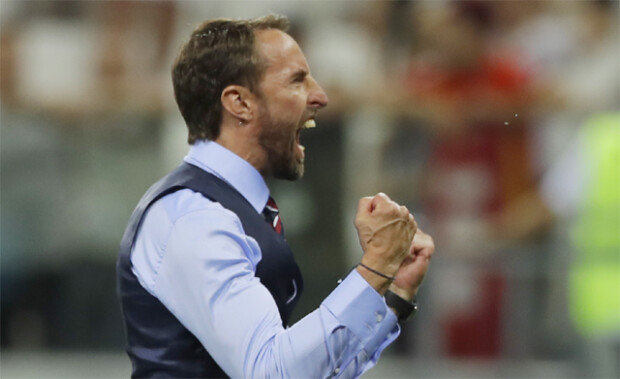 In the upcoming showdown between England, "the origin of soccer," and Sweden boasting of "watertight defense" racing to advance to the semifinals, the coaches of the two teams are set to engage in fierce battle of brains.
England and Sweden will hold their quarterfinal match of the 2018 World Cup finals in Samara, Russia at 11 p.m. on Saturday. Coach Gareth Southgate (48), who is aiming to bring the World Cup title to England for the first time in 52 years since 1966 when the nation hosted the World Cup, is dubbed a "fusion commander."
The British coach has incorporated techniques from other sports as well as those of soccer in his team's tactics. According to the U.S. broadcaster NBC, Southgate has completed a set-piece tactic by referring to the National Football League (NFL) and the National Basketball Association (NBA).
While active as player, coach Southgate played midfielder in Team England from 1995 to 2004, going through an elite soccer career.
Swedish coach Janne Andersson (56), who gave South Korea a painful loss in Group F of the group league, has never coached the national team before. Soon after retiring as player, he assumed the coach for Swedish soccer club IFK Norrkoping in 2011. Known to be "scholarly" in style, he led IFK Norrkoping, which was considered one of the weakest teams, to the championship based on thorough analysis of the opponent teams in 2015. After assuming the Swedish national team coach in 2016, he is making a splash by banking on "system soccer" stemming from robust teamwork.
Sweden has not significantly changed its tactic since its match against South Korea. The team makes most of its stable defense based on a 4-4-2 formation in which two strikers are deployed at the forefront, before launching scathing attacks. "I watch more than 1,000 video clips of our opponent team's matches, edit scenes in which the opponent teams reveal weakness into 20 to 30 minute clips, and show them to our players," Andersson said.
Sweden's coach has superb capability in intelligence gathering, as he stealthily dispatches team performance analysts to figure out the opponent team's ability and strengths. "Thanks to Andersson's care-taken preparation and strategy setting, Sweden has continued strides even without a star player," the international soccer governing body FIFA said. He is also famous for increasing players' self-confidence through frank and seamless communications with players.
Sweden is expected to bank on its tight defense centered around Andreas Granqvist, plus biting counterattacks with the focal point to be performed by midfielder Emil Forsberg (27), who is highly talented in creative passes.
Yun-Cheol Jeong trigger@donga.com