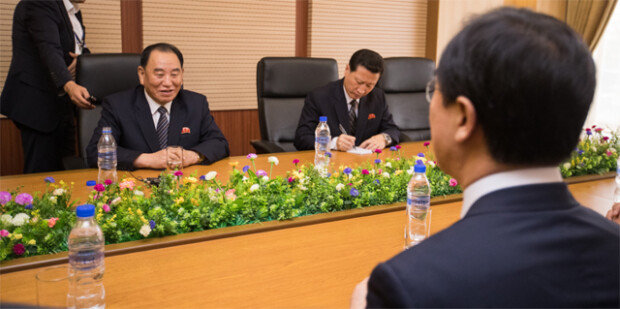 Kim Jong Un, the young leader of North Korea known to be an avid basketball fan, did not show up for a friendly basketball match with South Korea on Thursday, which was proposed by Mr. Kim himself and held in Pyongyang for the first time in 15 years. North Korea watchers stipulate that the North Korean leader could not attend the "big game" as he was bent on making preparations for the upcoming nuclear deal with U.S. Secretary of State Mike Pompeo.
On Thursday morning, Kim Jong Un sent Gen. Kim Yong Chol, the head of the North Korean ruling party's United Front Department, to Korea Hotel, where the South Korean delegation was staying, and notified of his inability to watch the game. It was 10:10 a.m. Thursday, roughly five hours before the start of the match.
Gen. Kim met with South Korea's Unification Minister Cho Myong-gyun and the South Korean delegation on the second floor of the hotel, and said that the North Korean leader advised him to meet with the South Korean delegation, adding that Kim was visiting local regions for inspection. After a 50-minute meeting with the North Korean general that started at 10:20 a.m., the South Korean unification minister told reporters that Gen. Kim Yong Chol paid a courtesy call on the South Korean delegates as the North's leader was visiting Sinuiju region.
The friendly match was arranged when Kim Jong Un, who is known to be an NBA fan, proposed to hold a "basketball game first before a football match" during the inter-Korean summit meeting on April 27 this year, but during the game Thursday, the young leader of the communist regime was visiting Sinuiju, a region on the border between the North and China.
"It appears that Kim is preparing case scenarios with his secretary room officers in Sinuiju, a city whose temperatures are lower than in Pyongyang," said a source. "I think Mr. Kim is sending out a message to Washington that he is making his best effort for the meeting with Pompeo, instead of spending time on a basketball game." Another source from the South Korean government explained that Kim Jong Un's failure to attend the game was somewhat unavoidable as the meeting with Mr. Pompeo was arranged later on after the game schedule had been set.
In-Chan Hwang hic@donga.com